Sealed Tubing Ends reduce operational expense, improve efficiency.
Press Release Summary: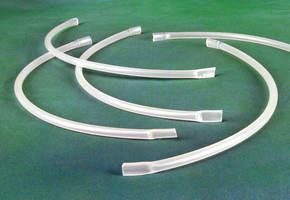 Available with pre-sealed ends, AdvantaFlex® biopharmaceutical grade TPE tubing is made from FDA-approved ingredients, measures 12 in. long, and comes in standard size of 1/8 in. ID x ¼ in. OD. AdvantaFlex Sealed Tubing Ends can be used with sterile tubing welders to aseptically terminate fluid paths and lessen need for aseptic disconnectors. Sealed tubing end welded to tubing from bag or container maintains sterile, closed system for single-use biopharma and pharmaceutical applications.
---
Original Press Release:

New Sealed Tubing Ends from AdvantaPure® Reduce Operational Costs and Improve Efficiencies



Help Maintain a Sterile & Closed Fluid Transfer System



Southampton, Pa. – AdvantaPure announces that its AdvantaFlex® biopharmaceutical grade TPE tubing is now available with pre-sealed ends. The ends are ideal for Single-Use biopharma and pharmaceutical applications such as sampling and storage. Simply weld a Sealed Tubing End to the tubing from a bag or container, and a sterile, closed system is maintained.



Various upstream and downstream Single-Use process applications are well suited for Sealed Tubing Ends, including media and buffer preparation, microbial fermentation, and final formulation and filling.



AdvantaFlex Sealed Tubing Ends can be used with sterile tubing welders to aseptically terminate fluid paths and lessen the need for costly aseptic disconnectors. They help improve production efficiencies and reduce operational costs. The ends also save time versus sealing on site, as they arrive sterilized and ready to use.



Other features include:

Standard tubing size of 1/8" I.D. x 1/4" O.D.

Certified animal derived component free

Made from FDA-approved ingredients

Meets various ISO, European Pharmacopoeia and USP standards, including Class VI

Compatible with sterile welders

Validated sterility assurance of 10-6 via gamma irradiation per ISO 11137 method VDmax 25



Single-Use AdvantaFlex Sealed Tubing Ends are double bagged with ten, 12" long pieces per package. One quick weld and your sterile, closed system is ready.



For more information on AdvantaFlex Sealed Tubing Ends, contact the AdvantaPure team at 145 James Way, Southampton, PA 18966; phone 888-755-4370 or 215-526-2151; fax 888-258-4293 or 215-526-2167; e-mail: info@advantapure.com; or visit http://www.advantapure.com/advantaflex-sealed-tubing-ends.htm.



ISO 9001-2008 RGB 300About AdvantaPure and NewAge® Industries

The AdvantaPure division of NewAge Industries is ISO 9001:2008 certified and specializes in high purity tubing, hose, single use systems, manifolds, and other molded components for the pharmaceutical, biomedical, food, beverage, and cosmetic industries. All products are manufactured, stored, and shipped using the cleanest methods possible to ensure unsurpassed product purity.



In business since 1954, NewAge Industries manufactures plastic and rubber tubing in both reinforced and unreinforced styles. The company offers one of the broadest product lines of tubing and fittings in the U.S., provides extensive custom extrusion and fabrication capabilities, and services customers worldwide. Automated product identification systems, including gamma-stable RFID tags and labels, are offered by NewAge's Verigenics® division. In 2006, NewAge initiated an ESOP (Employee Stock Ownership Plan) for the benefit of both its employees and customers.



AdvantaFlex®, NewAge Industries AdvantaPure®, Verigenics®, and NewAge® are registered trademarks of NewAge® Industries, Inc.

More from Agricultural & Farming Products