SDM3065X Digital Multimeter features 1GB of flash memory.
Press Release Summary: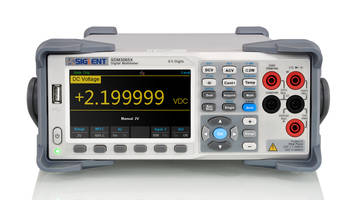 Combining histogram, bar chart, statistics and hold measurement features, Siglent SDM3065X Digital Multimeter reads at up to 300 samples/sec. Housed in a 11.6 × 10.3 × 4.3 in. prop-stand case, unit takes measurements of true-RMS AC voltage and current, resistance to 100 MΩ and capacitance to 10,000 µF. Weighing 7.5 lb, DMM feature 4 in. TFT-LCD display which can show 2,200,000 count readings. DMM is designed with USB Device, USB Host and LAN interface.
---
Original Press Release:
New Economical 6½ Digit Benchtop Multimeter from Saelig
6 ½ digit (2,200,000 count) dual-display digital multimeter suits high-precision, multifunction, and automatic measurements.
Saelig Company, Inc. has introduced the Siglent SDM3065X - an economical 6½ digit dual-display digital multimeter that is suited to high-precision, multifunction, and automation measurement applications. It combines basic high-accuracy measurement functions, with multiple math and display choices, and special features including histogram, trend chart, bar chart, statistics, hold measurement, dBm, etc.
The SDM3065X multimeter's front panel features a 4.3" (480 x 272) high resolution color TFT-LCD display that clearly shows the 2,200,000 count readings. This DMM's clear keyboard layout and operation make it easy and quick to use, especially with its built-in help system. The many interfaces for remote storage and communication include USB Device, USB Host and LAN. The Ethernet connection interface supports the common SCPI command set. It is especially well suited for the needs of high-accuracy measurements. It even includes built-in cold terminal compensation for thermocouple temperature measurements.
Reading at up to 300 samples/second, the SDM3065X DMM takes measurements of true-RMS AC voltage and AC current, resistance to 100Mohms, capacitance to 10,000 microfarads, continuity and diode tests, frequency and period measurements, and temperature, with support for thermocouple and RTD sensors. It contains 1GB of Flash memory for storage of configuration and data files, and also supports USB external storage. Siglent's EasySDM software, provided free, allows for easy PC connectivity, external control and display. Housed in an attractive compact (11.6" × 10.3" × 4.3") prop-stand case, the SDM3065X weighs only 7.5lbs.
The Siglent SDM3065X's combination of comprehensive features, ease of use and versatile functionality make this multimeter a perfect general purpose, high-accuracy measuring tool. Applications include research and development, education, circuit testing and debug, automated production testing, etc. TheSDM3065X is available now at US$729.00 from Saelig Company Inc. For detailed specifications, free technical assistance, or additional information, please contact Saelig 1-888-7SAELIG www.saelig.com.
About Saelig Company Inc.
Founded in 1988 in Rochester, New York, Saelig is a North American distributor with a growing reputation for finding and sourcing remarkable, unique test and measurement and control products and components for use in a wide variety of industries. Products lines are continuously added from sources across the globe, and are offered at competitive prices, accompanied by full in-house technical support, exceptional customer service, and fast delivery. For full details of available product lines, please visit www.saelig.com.
Contact Information
 Alan Lowne
CEO, Saelig Company, Inc.
Email: info@saelig.com
Phone: 585-385-1750
Fax: 585-385-1768
More from Packaging Products & Equipment