SD Bus Protocol Tracer facilitates capture, decoding, analysis.
Press Release Summary: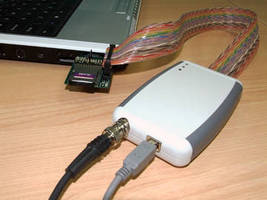 Designed for those working on SD- and SDIO-related projects, SDDL1000 enables capture, decoding, and analysis of bus states and command and response tokens as well as measurement of SD bus performance. Features include automatic timing violation analysis and unlimited buffer size with continuous sampling. Also, unit provides debug information in real-time without setting of complex trigger events. Powered from host PC USB port, it can also be connected to logic analyzer or oscilloscope.
---
Original Press Release:

Saelig Introduces SD Bus Protocol Tracer



Pittsford, NY, USA: Saelig Company, Inc. (Saelig) (www.saelig.com) has introduced the SDDL1000 SD Bus Protocol Tracer, which allows design engineers working with SD and SDIO technology to capture, decode and analyze bus states, command and response tokens, and to measure SD bus performance. Designed for engineers working on SD- and SDIO-related projects, the SDDL1000 provides time-saving features such as automatic timing violation analysis and unlimited buffer size with continuous sampling, shortening the time needed to identify and resolve bus errors. The SDDL1000 also provides sufficient debug information in real time without the need to set complex trigger events. SD bus traffic prior to the error points is clearly displayed to help quickly identify problems. Debug output is displayed in a straightforward but detailed format, providing extensive information even for users less familiar with SD/SDIO/MMC specifications.

Powered from a host PC's USB2.0 port, the SDDL1000 is only 5"x 3" x 1", making it a highly portable device which can also be connected to a logic analyzer or oscilloscope to extend its capabilities. SD samples are streamed directly to the host PC and stored on the hard-drive. The maximum capture capabilities are only limited by the host PC hard-drive space.

The SDDL1000 offers automatic protocol timing and violation detection for SD /SDIO V3.0, real-time SD bus tracing, and advanced triggering to synchronize with digital oscilloscopes or logic analyzers for further detailed signal analysis. Data export functions include continuous capture for unlimited SD trace acquisition in SD/SDHC/SDXC/SDIO/SPI 1-bit & 4-bit modes. The SDDL1000 provides MMC support, SDIO Interrupt detection, CRC7/CRC16 verification and error detection, full bus decoding, and raw data mode.

The application software and GUI provided are Java-based and therefore instantly portable across all major PC operating systems. A number of different test 'pods' are available to simplify connection to the device under test (e.g. SD card, Mini and Micro SD or probe type in-circuit connection). Both raw data and command/response decode mode data are available. The SDDL1000 monitors the content of the SD command/response to extract information about SD/SDIO/MMC specification used, data bus width, etc., decoding SD traffic according to the specification detected. The ASD Tracer offers a simplified view of SD/SDIO commands (command ID, argument) to allow fast browsing. Every SD/SDIO command/data block can be expanded to detailed view offering argument detailed description.

Integration with the USBscope50, a thumb-drive-sized oscilloscope adapter, provides additional waveform analysis capabilities.

Made in Europe's premier SD experts Elan Digital Systems, the SDDL1000 is available now from Saelig, with prices starting at $1999.50 USD (qty 1). For detailed specifications, free technical assistance, or additional information, please contact 1-888-7SAELIG, via email: info@saelig.com, or visit www.saelig.com

About Saelig Company, Inc. Founded in 1988 in Rochester, New York, Saelig is a North American distributor with a growing reputation for finding and sourcing unique, easy-to-use control and instrumentation products and related active components, for use in a variety of industries. Products lines are continuously added from sources across the globe, and are offered at highly competitive prices, accompanied by full in-house technical support, exceptional customer service, and fast delivery. For full details of available product lines, please visit www.saelig.com.

High Quality Image www.saelig.com/supplier/elan/sddl1000.jpg

Press Release Link:http://www.saelig.com/pr/sddl1000.html

Contact Information
email: info@saelig.com
phone / fax: 585-385-1750 / 585-385-1768
web: www.saelig.com

More from Packaging Products & Equipment