Screw Conveyor has totally sealed, mobile design.
Press Release Summary: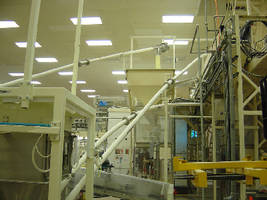 Spiroflow Mobile Flexible Screw Conveyor can be used to meter bulk ingredients and/or minor additives from storage or processes of any kind. Compatible with range of materials, particle sizes, and bulk densities, it can be controlled volumetrically or gravimetrically from source vessel or by gain-in-weight at receiving end. Only moving part is one motor-driven spiral that rotates within sealed tube to gently move material without degradation or risk of mixed product separation.
---
Original Press Release:

Mobile Flexible Screw Conveyor from Spiroflow Systems Well-Suited for Multiple Product Conveying Applications



CHARLOTTE, N.C.--- A mobile Flexible Screw Conveyor that can be used to meter bulk ingredients and/or minor additives from storage or processes of any kind for further processing or packaging is now available from Spiroflow Systems of Charlotte, N. C.

The 'Spiroflow' Mobile Flexible Screw Conveyor is ideal to use with a wide range of materials, particle sizes and bulk densities for discharging from bulk bags, silos, hoppers, transportable rigid bins, mixers, reactors or dryers in process industries such as food, chemical, plastic and others.

The conveyor can be controlled volumetrically or gravimetrically from the source vessel or by 'gain in weight' at the receiving end.

Mobile Flexible Screw Conveyor Detailed
Designed with the operator in mind, the 'Spiroflow' Mobile Flexible Screw Conveyor is easy to maneuver by a single attendant. Locking wheels ensure stability and safety when the conveyor is in use at the various locations, parked or being cleaned elsewhere.

The system's mobility allows use for diverse and multiple product applications in different areas of the plant. System design accommodates easy product changeovers and allows different products to be conveyed using the same system for maximum economy.

Like all 'Spiroflow' Screw Conveyors, the mobile conveyor's only moving part is a motor driven spiral that rotates within a sealed tube to gently move material without degradation or risk of mixed product separation. The result is a system with a low installation cost that is high in efficiency and performance.

Any risk of dust contamination or contamination from humidity in the atmosphere is for all practical purposes eliminated since the conveying system is totally sealed and does not use air as the conveying medium. This totally sealed feature also eliminates any threat of airborne contaminants to any other products or the working environment. This feature is crucial when the conveyor is used in food or pharmaceutical applications.

Simple to maintain, the Ultra High Molecular Weight Polyethylene (UHMWPE) tube and steel spiral easily disassembles for cleaning to minimize downtime and reduce any risk of cross-contamination, an especially important feature when switching products. The electric motor can also be reversed to empty the conveyor of residual material and, when required, the conveyor can be flushed out with water or a cleaning solution.
To accommodate throughputs of up to 10,000 cubic feet per hour, a variety of different spiral and tube diameters are available to exactly match plant requirements.

Spiroflow is a worldwide supplier of a wide range of both standard and custom powder handling equipment, specializing in Bulk Bag Dischargers and Fillers, Mechanical and Pneumatic Conveyors, Bag Packing equipment and Flexible Storage Silos. The company offers a wide range of innovative designs and design options.

For more information about 'Spiroflow' Flexible Screw Conveyors or their other bulk handling equipment, contact Spiroflow Systems at 704-291-9595; FAX 704-291-9594 or Email info@spiroflowsystems.com. Spiroflow can also be seen on the Internet at www.spiroflowsystems.com

More from Architectural & Civil Engineering Products