Screw Anchor System speeds installation.
Press Release Summary: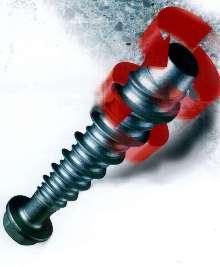 HUS Screw Anchor System is manufactured using 2-step heat treatment process and Delatone coating. It features hardened tip for cutting into concrete, and ductile shank to reduce risk of hydrogen embrittlement. Available in 3/8 and ½ in. sizes, HUS System installs using ANSI drill bits. It is suited for permanent indoor and temporary outdoor fastening applications including racking, shelving, hand and guard rails, seating, window frames, and conveyers.
---
Original Press Release:
Hilti HUS Screw Anchor - Tough, Fast and Reliable

THE PERFECT COMPLEMENT TO HILTI'S FAMILY OF ANCHORING SOLUTIONS

TULSA, (Okla.) - October 21, 2003 - The Hilti HUS Screw Anchor System, the total screw anchor system that features an innovative design to provide reliable fastenings with a high installation speed, can help you save both time and money.

Specifically designed for permanent indoor and temporary outdoor fastenings where customers value reliable fastening and installation speed, the HUS system completes the Hilti family of mechanical anchoring solutions and assures you a comprehensive system for all of your anchoring needs - from start to finish - no matter what the project.

Reliable, quick fastenings for serial applications

Manufactured using an innovative, two-step heat treatment process and special Deltatone coating, the HUS Screw Anchor features a hardened tip for easier cutting into higher strength concrete, and a ductile shank which reduces the risk of potential hydrogen embrittlement to deliver reliable, permanent fastenings.

Available in 3/8" and 1/2" sizes, the HUS Screw Anchor System is quick and easy to install using standard ANSI drill bits (5/16" for 3/8" HUS and 7/16" for 1/2" HUS) to help you take advantage of maximum drill bit life. It's perfect for very small edge distances and spacing and is completely removable for temporary fastenings. Typical applications include racking, shelving, hand and guard rails, seating, window frames, conveyers and fastening steel brackets to concrete.

Additional Hilti anchors provide flexibility, reusability

Other anchors in the Hilti family of anchoring solutions include the Kwik-Bolt II Expansion Anchor and the HCA 4-to-1 Coil Anchor. With its unique wedge design, the Kwik-Bolt II anchor provides a flexible solution to satisfy a wide range of fastening applications and approval needs. And the HCA 4-to-1 Coil anchor is the only anchor on the market that is removable and reusable for up to four applications to help you save both time and money.

Hilti also offers a complete line of rotary hammer drills, drill bits and screw fastening tools, including the SI 100 Impact Screwdriver, to complement its anchoring systems, so why go anywhere else? For more information on Hilti anchoring systems or other Hilti products and services, please contact Hilti Customer Service. From the US, call Hilti, Inc., at 1-800-879-8000; from Canada, call Hilti (Canada) Corporation at 1-800-363-4458. Additional information can also be found online at www.us.hilti.com or www.ca.hilti.com, respectively.

About Hilti, Inc.:

Hilti is a world-leading manufacturer and supplier of quality, innovative and specialized tools and fastening systems for the professional user. With 750 highly trained Hilti field representatives throughout North America and an additional 1,300 Hilti employees nationwide, Hilti expertise covers the areas of powder-actuated fastening, drilling and demolition, diamond coring and cutting, laser positioning and measuring, firestopping, screw fastening, adhesive and mechanical anchoring, and strut and hanger systems.
More from Controls & Controllers