Screen Changer suits extrusion applications.
Press Release Summary: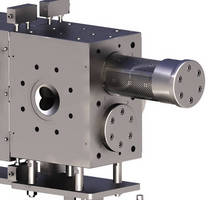 Adapting patented design of large-area polymer screen changer to special needs and filter requirements of extrusion industry, CSC-R Screen Changer features pistons with curved breaker plates, enabling 75% of active piston surface to act as filtration area. Rectangular mesh screens are inserted in filter cavities in place of disks previously used. Robust construction ensures leak-free filtration of all polymers in extrusion applications.
---
Original Press Release:

Maag Presents the World's Most Compact Screen Changer for Extrusion Applications



Maag Filtration launches an innovative screen changer with up to four times more filter area than conventional systems.

The new line adapts the patented design of Maag's large-area polymer screen changer to the special needs and filter requirements of the extrusion industry.



Thanks to the new shape of the pistons that are now fitted with curved breaker plates, seventy five percent of the active piston surface acts as an filtration area. This delivers significant benefits:

• For any given footprint the screen changer's filtration area is up to four times larger. This results in many times longer screen life-time, low pressure differential, a lower flux rate, and an increased filtration level.

• A much smaller and-cost effective screen changer can be employed for the same throughput and filtration area resulting in a smaller footprint, improved accessibility, easier operation and lower energy consumption.



Harald Pohl, Product Manager Filtration, adds: "A highly attractive feature is the improvement in performance of existing screen changers by simply changing the pistons. In the case of an existing screen changer with circular screen cavities, for example, one can gain up to as much as two-and-a-half times the previous screen area."



The pistons can be retrofitted in just one working day, without having to take the filter of the line. All the setup parameters and operating procedures remain largely unchanged. The only new elements are the simple rectangular mesh screens inserted in the filter cavities in place of the disks previously used.¬ The design and function of the new screen changer generation, designated CSC-R, is in line with Maag's proven double-piston configuration, which needs no additional seals. The robust construction ensures reliable, leak-free filtration of all polymers in extrusion applications.



Press Contact:

Maag

Chris Laurent

Aspstrasse 12 8154 Oberglatt, Switzerland

T: +41 44 278 8349

ChrisLaurent@maag.com



About Maag

Maag is the worldwide leading manufacturer of gear pumps, pelletizing systems, and filtration systems for demanding applications in the plastics, chemical, petrochemical, and food industries. Maag develops, manufactures, and distributes innovative, customized solutions for complete pump and pelletizing systems – with the expertise based on its long-term industrial tradition since 1910.



The whole company employs more than 500 staff at its headquarters in Switzerland and its production sites and sales offices in Germany, France, Italy, Singapore, Taiwan, Malaysia, China, Brazil, and the USA and is represented in the markets with its brands "Maag Pump Systems", "Automatik Pelletizing Systems", and "Maag Filtration Systems". Maag, a Dover Corporation Company (NYSE:DOV), is a part of the Pump Solutions Group, itself a business unit of Dover Engineered Systems.

More from Fasteners & Hardware