SCHURTER Electronic Components Releases New Version of NEMA Receptacles 5-15R
Press Release Summary: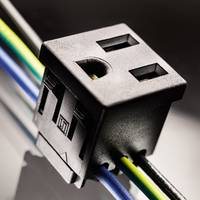 SCHURTER's updated NEMA Receptacles 5-15R features a new range of horizontal and vertical bussed wire options. The update also features expanded data communication, temperature range, and storage.
---
Original Press Release:
NEMA Receptacles 5-15R with Expanded IDC Options
Santa Rosa, California, December 21, 2021 – SCHURTER introduces a new version of its NR010 series NEMA 5-15R Receptacles, with IDC terminals for bussing insulated wires perpendicular to the Pin-Axis. The new version completes the range with both vertical and horizontal bussed wire options. All three terminals L, N & E can be bussed, or other variations thereof such as IDC for N & E only, leaving the line terminal independent. The independent line terminal allows for the application of maximum load to each outlet according to UL rating 15 A, 125 V, or for extending functionality to each outlet.
The packing density of equipment used for data communication and storage continues to be revolutionized with increased usage and expanded functionality. Increasing ambient temperatures go hand in hand with these advancements, as demand trickles down to the smallest components to keep pace with emerging needs of the appliance manufacturers. The SCHURTER NR010 series is keeping pace with the trend, with its wide operating temperature range of -25 ˚C to 150 ˚C.
In addition to SCHURTER's NR010 series with increased temperature ratings and IDC options, NEMA 5-15R appliance outlets NR020 and NR021 meet increased fire protection and safety standards according to UL 498 Tamper Resistant, as well as facilitating compliance of receptacles used in Household and Commercial Furniture and Furniture Power Distribution Units (FPDUs), according to UL 962 and UL 962A.  Furthermore, the NR021 NEMA 5-15R Tamper Resistant series meets the expanded code requirements according to UL 498. Additionally, it features a version with added insulated wall between the L, N terminals, compliant with the Spill Test outlined in UL 962 Sec. 62.
Pricing starts at $0.90 per piece in 100-piece quantities. Pack unit is 100 pieces. Data sheet links for the NEMA NR010, NR020 and NR021. For sales and product information, contact Cora Umlauf at (800) 848-2600 or by email at info.sinc@schurter.com.
About SCHURTER Inc.
The SCHURTER Group is the world's leading Swiss technology company providing components and complex solutions that ensure safe power supply and simplified equipment operation. The company's professional competence, financial independence, innovative strength and distinctive corporate culture, propel the SCHURTER Group, together with its customers and partners, into the digital future. The safe&easy brand claim not only refers to the products, but also the company's business philosophy, which strives for sustainable success through innovation, high-quality products and service, flexibility and proximity to customers.
SCHURTER is known globally as an innovator, manufacturer and distributor of fuses, connectors, circuit breakers, switches, EMC products, and input systems. Touch screens and touch panels, capacitive sensor keypads, membrane keypads and housing systems are developed in close cooperation with its customers. Within its business unit Solutions, SCHURTER combines all competencies and puts them at the customer's disposal. SCHURTER products and solutions are developed especially for specific industry segments – medical, data and communication, automotive, avionics & space, energy and the broader industrial market. SCHURTER considers the quality of its products and services as the key factor to the company's lasting success. Its management and improvement processes are designed and certified according to ISO 9001, ISO 13485, ISO 14001, ISO 45001 and IATF 16949, using the EFQM and Baldrige Excellence Models, as well as the application of Lean Management principles such as Value Stream Planning, Power Innovation, SSO, and Six Sigma.
SCHURTER Inc., Santa Rosa, California is the exclusive North America sales and distribution office for the SCHURTER Group.
More from Controls & Controllers