Schneider Electric Introduces Easergy P3 Relay with Improved Efficiency
Press Release Summary: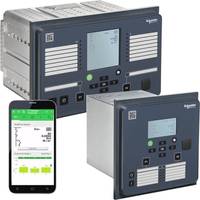 Schneider Electric has launched its Easergy P3 system arc flash protection relay. The relay trips a circuit breaker when a fault is detected and is designed for efficiency, time saving and limited equipment damage. it is simple to integrate and operate and delivers an improved medium voltage performance. The relay features the eSetup Easergy Pro configuration software, Easergy SmartApp, Embedded web configuration and a cloud-based repository. Easergy P3 provides an easy-to-use one-box solution.
---
Original Press Release:
Schneider Electric Launches Easergy P3, the Medium-Voltage Protection Relay with Unparalleled Efficiency
- The new protection relay delivers a high level of operational efficiency and reliability
- Modern digital experience for simpler and safer installation and operation
BOSTON, Nov. 14, 2018 /PRNewswire/ -- Schneider Electric, the leader in digital transformation of energy management and automation, today announced the launch of its Easergy P3 system and arc flash protection relay. This protection relay will trip a circuit breaker when a fault is detected and is designed to save operational time and limit equipment damage with state-of-the-art arc flash system protection. The Easergy P3 is focused on efficiency and total cost of implementation, with time saved in procurement, installation, wiring and configuration.
With the latest protection and modern digital communication capabilities, it is a major step forward in Medium Voltage equipment protection and control devices. The Easergy P3 is simple to integrate and operate for panel builders and system integrators. It makes every stage of the project significantly faster, from off-the-shelf product selection, to installation and configuration.
"We know that in the fast-changing world of energy, our customers and partners need better, easier-to-use products with faster delivery," said Daniel Gheno, Senior Vice President of Energy Products & Equipment at Schneider Electric. "The new, digitized Easergy P3 protection relay delivers exactly that to our Medium Voltage electrical distribution customers, thanks to Schneider Electric's Innovation at Every Level. Today's distribution systems are becoming more and more decarbonized, digitized, and decentralized. Safety, reliability, and efficiency are becoming increasingly critical and complex to realize. The Easergy P3 is designed to meet these needs."
A set of digital tools for greater operational efficiency
The eSetup Easergy Pro configuration software is designed to be easy to use for non-experts, while also offering smart advanced functions such as the virtual simulation test
The Easergy SmartApp enables simpler and safer operation and maintenance without standing in front of a circuit breaker
Embedded web configuration allows fast setting changes without the need for the setup software.
Data from the Easergy P3 can be securely stored in a cloud-based repository and made available throughout the lifetime of the installation, with the mySchneider app
A reliable, high-quality, and easy-to-use one-box solution
Proven protection and control functions give the Easergy P3 a rock-solid foundation to extend safety with embedded arc flash system protection in one simple-to-use device
Best-in-class reliability and simplicity, covering a wide scope of MV applications and building on more than 100 years of proven Schneider Electric experience and quality
Easergy P3 is part of the connected portfolio of the Schneider Electric IoT enabled architecture: EcoStruxure Power. EcoStruxure™ is our open, interoperable, IoT-enabled system architecture and platform. EcoStruxure delivers enhanced value around safety, reliability, efficiency, sustainability, and connectivity for our customers. EcoStruxure leverages advancements in IoT, mobility, sensing, cloud, analytics, and cybersecurity to deliver Innovation at Every Level. This includes Connected Products, Edge Control, and Apps, Analytics & Services. EcoStruxure has been deployed in 480,000+ sites, with the support of 20,000+ system integrators and developers, connecting over 1.6 million assets under management through 40+ digital services.
About Schneider Electric
Schneider Electric is leading the Digital Transformation of Energy Management and Automation in Homes, Buildings, Data Centers, Infrastructure and Industries. With global presence in over 100 countries, Schneider is the undisputable leader in Power Management – Medium Voltage, Low Voltage and Secure Power, and in Automation Systems. We provide integrated efficiency solutions, combining energy, automation and software. In our global Ecosystem, we collaborate with the largest Partner, Integrator and Developer Community on our Open Platform to deliver real-time control and operational efficiency. We believe that great people and partners make Schneider a great company and that our commitment to Innovation, Diversity and Sustainability ensures that Life Is On everywhere, for everyone and at every moment.
Follow us on:
Twitter
Facebook
LinkedIn
Google+
YouTube
Instagram
Schneider Electric Blog
Hashtags: #InnovationSummit #DigitalEconomy #EcoStruxure #LifeIsOn #SchneiderElectric
Contact This Company Download Spec Sheet
More from Controls & Controllers