Scalable Kit facilitates tractor management.
Press Release Summary: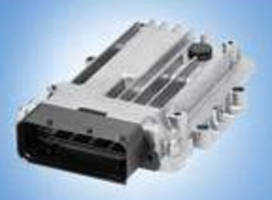 Designed to help increase functionality and comfort of tractor, scalable kit satisfies all requirements of integrated tractor management. It includes electronic control units (ECUs), application software, electronic joysticks, displays, and range of valves. Able to electronically reproduce required tractor functions, kit is characterized as high performance due to 32-bit TriCore technology and 150 MHz clock frequency.
---
Original Press Release:

Scalable Tractor Management from Rexroth



SRC8-8 ECU from Rexroth for agricultural applications.

The scalable kit of electronic control units (ECU) from Rexroth satisfies all that is required of integrated tractor management and delivers increased functionality and comfort to the tractor. In addition to the ECUs, it features application software, electronic joysticks, displays and a comprehensive range of valves. The concept is characterized by high performance thanks to 32-bit TriCore technology and a 150 MHz clock frequency as well as low dimensions on account of integrated components.

A tractor's performance class and level of equipment are deciding factors for the scopes of functions to be covered by tractor management. With the SRC6-10, SRC36-20 and SRC8-8 central ECUs, Rexroth offers a scalable kit with which the required functions in the tractor can be electronically reproduced to optimum effect. These functions range from electronic hitch control through transmission management (Shift-on-Fly, Powershuttle, Powershift, CVT), open- or closed-loop-controlled power take-off (PTO) via differential management right through to cab suspension.

The focal point of the tractor management kit is the new SRC8-8 central ECU. This ECU has been developed for tractors in the mid-performance range with CVT transmissions in which a small scope of input/output functions is to be combined with high requirements of computer performance. The SRC8-8 is based on modern 32-bit TriCore processor technology, which is also used as standard by Bosch in passenger cars. With the comprehensive application interface C-API and BODAS-service the great performance can be easily utilized and diagnosed to its full extent such that software designers who have no special knowledge of TriCore technology can concentrate on the essential functions of the machine.

The SRC8-8 is already very flexible thanks to its large number of multifunctional inputs and outputs (16 power outputs, 49 signal inputs). Furthermore, the user has at his/her disposal special inputs for intelligent Rexroth sensors, such as the DSM1-10 speed sensor with integrated diagnostic function, and for temperature sensors. Current-regulated proportional-solenoid outputs facilitate sensitive, precise and temperature- and voltage-compensated control of electrically actuated valves, pumps and motors under various operating conditions. Inherently short-circuit-proof and polarized outputs ensure the reliability and functional dependability of the SRC8-8.

SRC6-10 and SRC32-20 complete the Rexroth range of central ECUs. The SRC6-10 operates with a 16-bit controller and facilitates inexpensive integration of complex transmission management and electronic hitch control in one ECU. The SRC36-20 with its 32-bit TriCore processor and 56 power outputs is the high-end solution for maximum integration of the entire control and convenience functions in the tractor in just one central ECU.

A further integral part of the kit is parameterizable standard software for electronic hitch control (EHR) in conjunction with predefined configurations for valve control. The user can use the software package to implement his/her tractor application quickly and inexpensively. As an alternative to this standard solution, Rexroth also implements customer requirements in accordance with the required functionality in customized application software.

For electrical valve control in the tractor, Rexroth also offers the EJ electronic joystick, which is equipped with typical agricultural-engineering functions. The low-cost version can be connected directly to two Rexroth EHS valve disks and set by means of easy parameterization to the respective valve. The two-axis joystick facilitates not only simple but also specific agricultural-engineering functions such as free floating or constant flow, which can be controlled using integrated or external pushbuttons and potentiometers. The EJ with CAN-bus interface is available for more complex functions. Here the joystick axis values and the shift information read in at the joystick (from the grip or externally) are transmitted via the CAN bus to the Rexroth SRC ECU. The advantages are minimized wiring effort, shortened initial operation and greater system operational reliability.

With this wide range of standard and customer-specific ECUs and software and the electronic joysticks for valve control, Rexroth offers custom-made solutions to both smaller and large agricultural-engineering manufacturers.

Bosch Rexroth AG will present its products at the AGRITECHNICA 2007 in Hall 9, Stand 09F05.

Bosch Rexroth AG is one of the worldwide leading specialists in the field of drive and control technologies. Under the brand name of Rexroth the company supplies over 500,000 customers with tailored solutions for driving, controlling and moving plant and machinery, which are used in industrial and factory automation as well as in mobile applications. Being The Drive & Control Company, Bosch Rexroth develops, produces and sells components and systems in more than 80 countries. In 2006 the company of the Bosch Group achieved sales of approximately 4.9 billion Euro with over 29,800 employees.

For more information please click: www.boschrexroth.com


More from Architectural & Civil Engineering Products