SC-350 Select Spray Applicator offers uniform thickness.
Press Release Summary: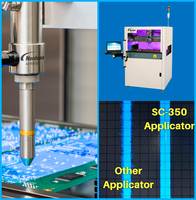 Select Coat® SC-350 Select Spray Applicator is designed for applications requiring precise edge definition and uniform passes. Unit can handle coating materials with viscosities ranging from 30 cps to more than 3500 cps. Product supports four-position tilt accessory and can adapt to dual-simultaneous configuration. SC-350 is suitable for automotive and mobile electronics device manufacturing and assembly industry.
---
Original Press Release:
Nordson ASYMTEK SC-350 Select Spray Applicator Combines High Speed with Superior Edge Definition for Electronics Manufacturing
Nordson ASYMTEK a Nordson company (NASDAQ: NDSN) and global leader in dispensing, jetting, and coating equipment and technologies, introduces the new Select Coat® SC-350 Select Spray applicator for conformal coating applications. The SC-350 delivers superior edge definition and uniform coating thickness at high speeds while accommodating a wide range of fluid viscosities. The exceptional edge definition and control of the spray maintain tight keep-out zones and enable thin film builds, which are critical in automotive and mobile electronics device manufacturing and assembly.
The SC-350 is ideal for applications that require precise edge definition and uniform passes for 100% solids as well as solvent-based materials. An innovative airflow extension optimizes atomization of high-viscosity materials, such as silicones, acrylics, and urethanes, and reduces the "cobwebbing effect" that occurs when coating materials cure in air. Viscosities ranging from 30 cps to more than 3500 cps can be handled efficiently while reducing solvent use.
The SC-350 applicator is designed for use with the Nordson ASYMTEK SL-940 conformal coating system. The applicator supports the Four-Position Tilt accessory that features the standard vertical position and tilts the applicator at 30 degrees in four positions to spray all four sides of a part and areas not accessible from the standard vertical orientation. It also adapts to the Dual-Simultaneous configuration that reduces process time by 50%.
The SC-350 applicator is easy to clean and maintain, with minimal wetted parts, smooth internal surfaces, and exposed splines. Cost efficiency is realized through minimized fluid and solvent use as a result of thinner film builds. Exacting keep-out zones save fluid, repair, and rework.
"We've heard comments like, 'You've got to try it', 'An eye-opener', 'Wow. That looks nice', and 'The best spray results we've ever produced'," said Camille Sybert, product marketing manager, Nordson ASYMTEK. "This truly fits a need in the market for an applicator that gives extremely tight keep-out areas and excellent edge definition, but sprays at high speed and can accommodate a wide variety and viscosity of fluids. This opens the possibilities for many manufacturers."
For more information contact Nordson ASYMTEK at info@nordsonasymtek.com, call +1 760-431-1919, or visit our website: www.nordsonasymtek.com.
About Nordson ASYMTEK
Nordson ASYMTEK, a world leader in precision fluid dispensing, conformal coating, and jetting technologies, designs and manufactures dispensing and coating systems, supported by an award-winning global applications and service network for over 30 years. To find out more, visit www.NordsonASYMTEK.com.
About Nordson Corporation
Nordson Corporation engineers, manufactures and markets differentiated products and systems that dispense, apply and control adhesives, coatings, polymers, sealants, biomaterials, and other fluids, test and inspect for quality, and treat and cure surfaces, and are supported by application expertise and direct global sales and service. Nordson serves many consumer non-durable, durable and technology end-markets including packaging, nonwovens, electronics, medical, appliances, energy, transportation, construction, and general product assembly and finishing. Founded in 1954, headquartered in Westlake, Ohio, Nordson has operations and support offices in nearly 40 countries. Visit Nordson at www.nordson.com.
More from Packaging Products & Equipment