SAS Automation Announces Lifetime Guarantee for GRF-20 Spring Return - Gripper Fingers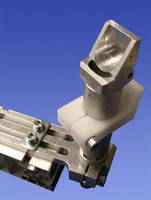 SAS Automation is pleased to announce a new Lifetime Guarantee on all of its GRF-20 Spring Return Single Acting Gripper Fingers purchased after January 1, 2009.

SAS Automation designs and manufactures in the USA, robotic End-of-Arm Tooling components using the highest quality materials. For the past twelve years, they have proudly pioneered many "industry-firsts" including: on-site service, e-commerce shopping, and of course tools that uniquely are compatible with all robots and any part. In addition to those milestones, they have found their GRF's ...to last a million cycles!

Engineering components with innovative designs to last longer and reduce your overall production costs is the cornerstone of >SAS<. Details of this guarantee are as follows:

1. Warranty is only for the SAS GRF-20 Spring Return Single Acting gripper fingers on purchases after January 1, 2009 (must show proof of purchase).

2. Must be used by the original purchaser; warranty cannot be transferred.

3. Must be returned to SAS for verification and inspection (postage paid).

4. SAS will replace at equal value; no cash refunds.

5. Products must be used in the manner intended and not abused.

6. SAS, at its sole discretion, may choose to remove this warranty on future products sold.

7. Customer must not modify the product in any manner.

8. SAS will send replacement part for valid claims. This will generally occur within two weeks, but is based upon >SAS< inventory and production scheduling.

9. Warranty is limited to 1,000,000 cycles.


More from Machinery & Machining Tools