Santa Cruz Sheriff's Office Rolls Out Wrap Technologie's BolaWrap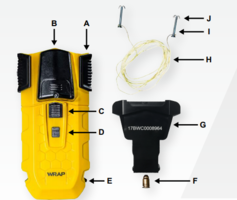 Tempe, Arizona, Nov. 22, 2019 /PRNewswire/ -- Wrap Technologies, Inc. (the "Company" or "Wrap") (NASDAQ: WRTC), an innovator of modern policing solutions, reported today that Santa Cruz Sheriff's Office is rolling out the BolaWrap® as a new non-lethal force tool. The BolaWrap deployment was reported by CBS affiliate KION-TV and other media outlets.
Santa Cruz Sheriff's Office held a BolaWrap demonstration for the media on Wednesday, November 20, 2019, where the department announced its recent initial purchase of 20 BolaWrap devices. According to NBC and ABC affiliate KSBW, if the BolaWrap is proven to be successful in the field, all 160 deputy sheriffs will be using the device.
According to KSBW, Santa Cruz County Sheriff Jim Hart stated that deputies respond ten times a day to people experiencing serious mental health crises, which translates to roughly 3,000 responses annually. "Even if we have one case where we prevented lethal force from having to be used, it'll have been worth it," Hart said during the demonstration.
Mike Rothans, Chief Operating Officer at Wrap Technologies and retired Assistant Sheriff at Los Angeles Sheriff's Department said, "Santa Cruz Sheriff's Office is a forward-thinking agency looking to improve the safety of their officers and the citizens in their community. It's great to see agencies like the Santa Cruz Sheriff's Office continuing to understand the value of adding another less-lethal force option to their toolbelt."
News coverage of the BolaWrap demonstration can be found below:
The "BolaWrap" rolled out by Santa Cruz County Sheriff's Office as new non-lethal force tool
Santa Cruz deputies train using new less than lethal device
Deputies learn how to use restraint tool
Santa Cruz Sheriff's Office Demonstrates New Restraint Tool
The Company also performed BolaWrap demonstrations to multiple agencies across Arkansas this week. News coverage of those demonstrations can be found below:
Law enforcement agencies test new restraint device
Northwest Arkansas law enforcement test out new BolaWrap restraint tool
JPD considers adding Batman-like tool to Duty Belts
Jonesboro Police consider Bola Wrap as an alternative tool in crime fighting
Local law enforcement considering purchasing restraint technology
Local Law Enforcement Agencies Test Out Non-Lethal Restraint Device
About Wrap Technologies (Nasdaq: WRTC)
Wrap Technologies is an innovator of modern policing solutions. The Company's BolaWrap 100 product is a patented, hand-held remote restraint device that discharges an eight-foot bola style Kevlar® tether to entangle an individual at a range of 10-25 feet. Developed by award winning inventor Elwood Norris, the Company's Chief Technology Officer, the small but powerful BolaWrap 100 assists law enforcement to safely and effectively control encounters, especially those involving an individual experiencing a mental crisis. For information on the Company please visit www.wraptechnologies.com.
WRAP Technologies Contact:
Investor Relations
800-583-2652, Ext #515
IR@wraptechnologies.com
Source Wrap Technologies, Inc.
More from Thermal & Heating Equipment