Sanitary Lump Breaker features side removal bed screens.
Press Release Summary: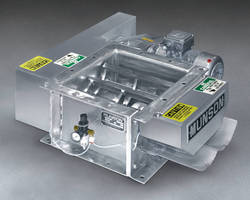 Model RDC1515-SS Sanitary Lump Breaker reduces agglomerates and friable materials discharged from process equipment, storage vessels, and shipping containers. Unit has 15 in. square inlet for material entry, and dual rotors with 3-point, stainless steel breaking heads inside curved, perforated bedscreen. Material exits through apertures in 1/32-2½ in. dia twin bedscreens. Measuring 11 in. high, system is powered by 3 hp motor and is constructed of #304 stainless steel.
---
Original Press Release:

Sanitary Lump Breaker Has Side Removal Screens



UTICA, NY - new Sanitary Lump Breaker from Munson Machinery features side removal bed screens for rapid, thorough wash down. The all-stainless, low profile unit, Model RDC1515-SS, reduces agglomerates and friable materials being discharged from process equipment, storage vessels and shipping containers.

Material entering the 15 in. (381 mm) square inlet is reduced in size by dual rotors with three-point, single-piece, stainless steel breaking heads rotating with minimum clearance inside a curved, perforated bedscreen.

On-size material exits through apertures in twin bedscreens ranging from 1/32 to 2-1/2 in. (25 to 64 mm) in diameter.

Whereas conventional units must generally be unbolted from upstream and downstream equipment to access bottom-mounted bedscreens, the new unit with side-removal bedscreens can remain in place, allowing thorough sanitizing in a fraction of the time.

Powered by a 3 HP (2.24 kw) motor with gear reducer and serpentine timing drive, the synchronized shafts rotate at approximately 100 RPM to avoid heating the product.

At 11 in. (279 mm) high, the unit is designed to fit in restricted spaces between bulk storage, handling, processing and packaging equipment. With optional feed hoppers and support structures, it can also operate independently.

The unit is recommended for deagglomeration of free- or non-free-flowing bulk materials such as salt, sugar, spices and resins, and size reduction of easy-to-break materials such as friable food products, and other compacted powders.

According to the manufacturer, it is built to withstand heavy usage and is simple to maintain; bearings can be lubricated through external fittings and are isolated from the product processing area with multiple labyrinth air purge seals.

Constructed of #304 stainless steel, finished to sanitary standards and designed for thorough wash down, the unit is suitable for food, dairy and pharmaceutical applications as well as industrial applications where cross-contamination between batches is a concern. It is also offered in #316 stainless steel, carbon steel and abrasion-resistant steel (AR-235).

Also offered are higher capacity models with up to four rotors, up to 40 HP (30 kw) and inlets to 48 in. (1219 mm) square.

Other size reduction machinery offered by the company includes Screen Classifying Cutters, Pin Mills (Centrifugal Impact Mills), Attrition Mills, Rotary Knife Cutters, Hammer Mills and Shredders. Blending equipment includes Rotary Batch Mixers, Ribbon, Paddle and Plow Blenders, Forberg Mixers, Rotary Continuous Mixers and High Intensity Blenders.

For information contact Munson Machinery Company, Inc., 800-944-6644, info@munsonmachinery.com, www.munsonmachinery.com

More from Architectural & Civil Engineering Products