Sandvik Coromant to Exhibit Versatile Tools and Inserts at EASTEC 2007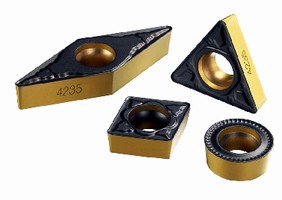 Fair Lawn, New Jersey, March 1, 2007 - Sandvik Coromant's display at EASTEC 2007 will feature the newest of its versatile, high-performance inserts and tools. Designed to provide today's manufacturer with dramatic productivity gains and cost savings, Sandvik Coromant's products will be located in booth #5440 from May 22-24, 2007 at the Eastern States Exposition Grounds in West Springfield, Massachusetts.

Sandvik Coromant's newest insert grades exhibit the most value in their ability to boost productivity and performance. The CB7025 is a strong grade, milling insert optimized for interrupted cuts in case hardened steel. It boasts a fine grain CBN that controls wear and mechanically interlocks insert corners to provide strength and security superior to standard insert edge designs.

The Sandvik Coromant CC6060 and CC6065 grades of round ceramic inserts achieve 4-6 times the cutting speed of conventional carbide inserts in medium to roughing operations. The CC6060 is optimized to provide productivity benefits with larger diameter components and longer lengths of cut, while the CC6065 provides a stronger insert and edge line to allow for increased feed rates and elevated component quality.

Visitors to booth #5440 will also see the highly reliable GC4230 and 4235 insert grades. Optimized for steel milling, the GC4230 operates effectively in all conditions and speeds while boasting maximum resistance to all wear types. Through stressless coating technologies, the GC4230 offers improved edge line toughness far beyond standard CVD grades, boosting cutting speeds and metal removal rates. The GC4235 insert grade provides excellent security in both steels and stainless steels, even when working in unstable and demanding conditions. Additionally, it is the toughest, most versatile grade in the Sandvik Coromant family of steel turning inserts, handling difficult situations like intermittent cuts and profiling operations with ease.

Sandvik Coromant's new, dampened silent version of the CoroMill 390 uses integrated dampening to eliminate vibration, improving performance in deep cavities and pockets. This allows cutting parameters to be increased without risk to workpiece quality.

The Sandvik Coromant CoroTurn TR will also be on display in booth #5440. The CoroTurn TR improves clamping stability and security through a robust T-rail interface between the insert and holder. The unique design incorporates vertical and horizontal rails to increase support of the insert, allowing for the production of higher quality, closer tolerance components.

About Sandvik Coromant
As the world-leading supplier of high quality cutting tools, Sandvik Coromant provided US customers with over $80 million in documented cost savings in 2006. The company measures its success through its ability to provide customers with their share of the $15 billion in savings that American manufacturing could achieve by maximizing tool performance. For more information on philosophies, products and services, contact Sandvik Coromant Company, 1702 Nevins Road, Fair Lawn, NJ 07410, phone 201.794.5223, fax 201.794.5217 or visit http://www.coromant.sandvik.com/us.

More from Material Processing