Sample Holder for In Situ TEM can heat samples to over 1000°C.
Press Release Summary: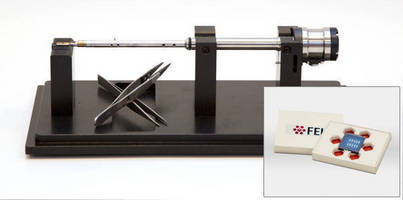 Suited for scientists studying structure-function relationship of materials, NanoEx™-i/v sample holder can be integrated with FEI transmission electron microscopes (TEMs) to observe effects of heating and electrical bias on nanostructured materials during in situ experiments. Holder is optimized to accept various sample geometries, from nanoparticles to thin FIB-prepared lamellae, and includes MEMS-based heating element as well as contacts for applying electrical bias.
---
Original Press Release:

FEI Announces NanoEx Sample Holder for In Situ Transmission Electron Microscopy



NanoEx permits observation of the effects of temperature and electrical bias on materials.



Hillsboro, Ore. – FEI (NASDAQ: FEIC) announces the availability of the NanoEx™-i/v sample holder for atomic-resolution imaging at elevated temperatures and applied electrical bias. This new solution can be integrated with FEI's transmission electron microscopes (TEMs) to observe the effects of heating and electrical bias on nanostructured materials during in situ experiments.



Materials scientists studying the structure-function relationship of a variety of materials, including metals, alloys, catalysts, polymers, (in) organic semiconductor devices, etc., can use the NanoEx-i/v heating component on an FEI TEM to study the material's behavior under elevated temperature conditions. The holder's use of an innovative micro-electro-mechanical system (MEMS)-based heating element enables faster, more precise heating, reduced thermal drift and improved image resolution during in situ experiments, overcoming the thermal stability limitations inherent in conventional furnace-based TEM heating holders. The holder also includes contacts to allow the application of electrical bias to the sample.



Trisha Rice, vice president and general manager, Materials Science, FEI, states, "Our customers have unique sets of needs and requirements, and we are committed to providing practical solutions for their specific application challenges. The NanoEx i/v extends that approach in the field of in situ microscopy. The holder can be used with our conventional TEMs to observe the effects of temperature and bias, as well as with our environmental TEM (ETEM) to add control of the gaseous environment."



The NanoEx i/v heating holder is optimized to accept a variety of sample geometries, from nanoparticles to thin FIB-prepared lamellae. The holder uses a small MEMS device as the heating element to quickly heat the samples inside the TEM to temperatures greater than 1000° C. The MEMS heater greatly reduces the thermal mass of the holder, reducing thermal drift and enhancing imaging and analytical spatial resolution. Faster heating, direct temperature measurement, and a known temperature distribution allow the investigator to better understand precisely what is happening at the sample. When used with FEI's ChemiSTEM™ Technology, it can provide energy-dispersive X-ray spectrometry (EDS) through a heating/biasing cycle to follow changes in elemental composition and correlate them with structural changes caused by the applied in situ stimuli. The NanoEx-i/v holder is compatible with all FEI TEM platforms, and can be operated remotely when used on the Talos™ or Titan Themis™ systems.



For more information about the NanoEx i/v heating component, please visit www.fei.com/nanoex.



About FEI

FEI Company (Nasdaq: FEIC) designs, manufactures and supports a broad range of high-performance microscopy workflow solutions that provide images and answers at the micro-, nano- and picometer scales. Its innovation and leadership enable customers in industry and science to increase productivity and make breakthrough discoveries.  Headquartered in Hillsboro, Ore., USA, FEI has over 2,600 employees and sales and service operations in more than 50 countries around the world. More information can be found at: www.fei.com.



For more information contact:

Sandy Fewkes

(media contact)

MindWrite Communications, Inc.

+1 408 224 4024

sandy@mind-write.com



FEI Company

Fletcher Chamberlin

(investors and analysts)

Investor Relations

+1 503 726 7710

fletcher.chamberlin@fei.com

More from Material Handling & Storage