Safety Mats, Safety Edges and Safety Relays Added by AutomationDirect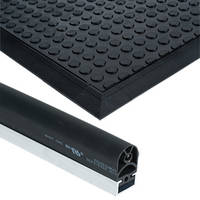 AutomationDirect has teamed with ASO GmbH who, since 1984, has been a leader in providing innovative ASO Safety Solution products such as safety edges, mats and specialized safety relays. Safety mats and edges are used to protect people and machinery from harm. A full range of sizes and lengths of mats and edges are in stock for immediate shipment.
Safety mats detect the presence of personnel on horizontal surfaces (usually the floor). ASO safety mats provide a wide horizontal detection area for personnel. The safety function is triggered when a person steps on the mat. Tapered or straight edge styles allow configuration flexibility. ASO safety mats start at $285.00.
Safety edges can be used on any surface, usually near possible crushing or shearing points and are touch-sensitive devices that detect presence at possible danger points. The safety function is triggered when a person or object contacts the edge. They are typically installed near automatic gates and other machinery to protect individuals from bodily harm or machinery from damage. ASO safety edges start at $36.00.
The ASO Safety Solutions safety relay module ($181.00) is a specialized relay used to wire both mats and edges for fail-safe triggering of the intended safety function.
Safety mats are cULus rated and safety edges are cURus compliant. Both mats and edges are CE, RoHs, Reach compliant and carry a 1-year warranty.
To learn more, visit www.automationdirect.com/safety-mats-edges
About AutomationDirect:
In business since 1994, AutomationDirect is a distributor offering thousands of industrial automation products for electrical control systems, including PLCs, operator interfaces, AC drives, motors, stepper systems, sensors, motor controls, enclosures and more. Their prices are typically well below the list price of more traditional automation companies because of their business model and focus on efficiency and the majority of their products are stocked for same-day shipping. Plus, get free two-day delivery on orders over $49; some limitations apply. For more information, contact them at 800-633-0405 or visit www.automationdirect.com.
More from Controls & Controllers