Industrial / Specific Purpose Computers
Rugged Touchscreen HMI meets IEC 61850 and other standards.
Press Release Summary: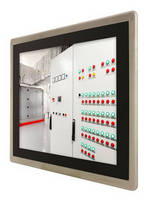 Suited for substation automation systems and control center applications in energy and utility sectors, hazardous area HMI panel PCs and displays operate over -4 to +140°F range and meet 15 G anti-shock and 5–500 MHz anti-vibration requirements. HMI is available with 15 in. flat screen LCD and Windows® Embedded or Linux OS. Powered by Intel® embedded processors with 3.5 W TDP, this fan-free, industrial-grade, open architecture solution also provides option for sunlight-readable LCD.
---
Original Press Release:

AIS Rugged, Touch Screen HMI Meets IEC 61850 Standard Required For Substation Automation Applications in the Energy and Utility Industries



AIS HMI Embedded Technology Designed To Meet Challenging Substation IEC 61850-3 Compliance Standards for Shock and Vibration Resistance, EMI and Wide Temperature Ranges



IRVINE, CALIFORNIA — American Industrial Systems (AIS), a leading manufacturer of ruggedized, industrial touch screen HMIs, panel PCs and operator interfaces for control and monitoring applications, announces the availability of their new HMIs which were designed to be compliant with IEC 61850 standards required for substation automation systems and control center applications in the Energy and Utility sectors. IEC 61850 is a standard for the design of electrical substation automation and control centers. The IEC 61850-3 standard specifies the hardware design requirements for IEC 61850 Intelligent Electronic Devices (IEDs) used in substation automation systems, the requirement's emphasis is on EMI, wide temperature, and shock and vibration resistance testing and approval.



AIS's 61850 Compliant HMIs Enables the Convenience of Ethernet with the Performance & Security Requirements for Utility and Energy Sector Substation Automation



IEC 61850 is a part of the International Electrotechnical Commission's (IEC) technical committee reference architecture for electric power systems. IEC 61850 is the new international standard for communication in substations. It enables integration of all protection, control, measurement and monitoring functions and additionally provides the means for high-speed substation protection applications. The standard combines the convenience of Ethernet with the performance and security which is essential in substation automation systems in the utility and energy sector today. AIS rugged Human Machine Interface (HMI) systems, industrial panel PCs and control monitors are designed to meet the demands of IEC 61850-3 for Electromagnetic Compatibility (EMC), climatic and mechanical conditions; IEEE 1613 for EMC control power inputs and installation; IEC/TS 61000-5-6 for EMC immunity in substation environments; IEC 60068-2-64 for vibration, broadband random and guidance; and IEC 60068-2-2 for dry heat.



HMIs Engineered for Electrical Transmission and Distribution, Renewable Generation, Oil and Gas, Water/Wastewater, Distributed Generation Applications in Substation Automation



The hazardous area, rugged HMI panel PCs and displays from AIS support wide operating temperatures from -20 to 60°C (-4 to 140°F), which is critical to achieving the specification/standard's requirements. Another important part of complying with IEC 61850 specifications is the ability to withstand severe vibration testing. AIS rugged control and monitoring HMIs are tested to meet a 15 G anti-shock and 5-500 MHz anti-vibration requirement to ensure continued operation for highly secure, reliable and scalable infrastructure in the utility and energy industries.



Having met all the requirements of IEC 61850, AIS HMI control, monitoring and visualization solutions are ideal for variety of substation applications in utility and energy infrastructure applications. Some key substation applications include electrical transmission and distribution, renewable generation, oil and gas, water, distributed generation, and trackside operations.



An Optimized Substation Automation Solution Shortens the Development Cycle, While Reducing System Cost and Complexity by AIS HMI Embedded Technology



In addition, the IEC 61850 standard defines an Ethernet-based protocol used in power substations for data communication, is the new international standard of communications for substations. It enables integration of all protection, control, measurement and monitoring functions within a substation and provides the means for high-speed substation protection applications. Today's power utilities operate more and more globally and require flexible, future-proof automation systems to cope with changing requirements, philosophies and technologies. AIS rugged, HMIs facilitate essential features such as interoperability between devices from different suppliers, allocation of functions, capability to follow the fast changing communication technology and ease of engineering and maintenance. The utility's investments are safeguarded by open architecture and platform and flexibility of AIS HMI open technologies.



A Safer Work Environment and Less Controller Fatigue Leads To Higher Operational Productivity in the Energy Substation Automation Systems



Available in a 15" LCD flat screen size, AIS's rugged HMI touch screen panel comes with pre-installed Windows® Embedded or Linux operating system; and is powered by high-performance and low power consumption (TDP 3.5W) Intel® embedded processors in fan-free, industrial-grade, high bright LCD flat touch screen panels (with option for sunlight readable LCD displays). Approved for ISA12.12.01/CSA 213: Non-incendive, Non-sparking, and Hermetical-sealed, IEC/UL/CSA 60079-11: Intrinsic Safety "ic" (Gc), IEC/UL/CSA 60079-15, including many other IEC 61850 standard for highly secure, reliable, and scalable infrastructure, AIS hazardous areas HMI panel PC and monitor ensure the ultimate in safety for transportation of hazardous liquids and gases.  AIS Stainless Steel HMI systems with UL and ATEX certifications for hazardous areas (Class 1 Div 2, Zone 2), include these additional safety benefits: improved controller/operator safety from remote control and detection of equipment failure; minimized exposure of personnel to potentially hazardous areas through remote monitoring; and increased productivity and less fatigue resulting from a safer, more efficient work flow.



Benefits for the Utility & Energy Industry with AIS Rugged, Industrial Designed HMIs

• Substation compliance with IEC 61850-3, IEEE-1613, IEC/TS 61000-5-6, IEC 60068-2-64, and IEC 60068-2-2 for utility substation environments and extended EMI and surge protection

• UL Listed to Safety Standards: ANSI/ISA 12.12.01, 2012, Nonincendive Industrial Monitor for Use in Class 1, Division 2 Groups A, B, C, D Hazardous (Classified) Locations and CAN/CSA C22.2 No. 213-M1987 for Use in Class 1, Division 2 Hazardous Locations: UL File # E365958

• UL Listed to Safety Standards: UL 60950-1 and CSA C22.2 No. 60950-1-07: UL File # E320439

• CE Ex Marked to Safety Standards: Explosive Atmospheres (ATEX)-Directive 94/9/EC-

• Compliance with the Essential Health and Safety Requirements has been assured by Compliance with IEC 60079-0, IEC 60079-11, and IEC 60079-15

• 3-Year limited warranty (return-to-depot service): Including all parts and labor costs (1 year), including control board (microprocessor) and labor costs (2nd to 3rd year), and labor costs (full 3 Years), accessories and software excluded



About AIS

Headquartered in Irvine, California, USA, American Industrial Systems, Inc. (AIS) offers in-house electronic and mechanical design, software development, manufacturing, production and quality control services. Offering one of the widest ranges of industrial computing solutions in the industry, AIS solutions are available in a multitude of configurations for industrial, oil & gas, military and marine applications. The company is fully committed to empowering, improving and delivering turnkey HMI, monitoring and display solutions for OEM, ODM and end-user customers. AIS is an ISO 9001:2008 certified supplier and manufacturer of rugged computers and displays, and received completion of the International Traffic in Arms Regulations (ITAR) registration from the Directorate of Defense Trade Controls (DDTC). For more information, visit: www.aispro.com, email: sales@aispro.com or contact: 1-888-485-6688.



Media Relations Contact:

American Industrial Systems, Inc.

Santiago Consunji

Business Development and Marketing Manager

Call: 1-949-681-7468 or Email: santiago.consunji@aispro.com

More from Software