RTV Silicones are suited for electrical applications.
Press Release Summary: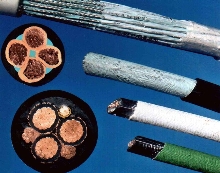 Solarite KM-2740 Series RTV (Room Temperature Vulcanizing) 2-component silicone grades include machine or manually mixed, standard and fast cure, as well as mastic, paste, or pourable. They have 1:1 mix ratio by volume or weight and are color-keyed for mix ratio verification. Electrical potting and casting silicones are UL-94V-0 approved, non-corrosive, and strippable. They produce void-free castings and are offered in 50-85A hardness range.
---
Original Press Release:

New Solarite® RTV Silicones Combine Excellent Coating and Sealant Performance with Economy


Solarite KM-2740 Series of RTV (Room Temperature Vulcanizing), 2-component silicones, offers a broad range of features with greater economy than other silicone products on the market. Solarite high-voltage electrical potting and casting silicones are available from the Solar Compounds Corporation, Linden, NJ. While silicones are recognized as being more expensive than epoxies, Solar offers pricing advantages for its line of custom RTV Silicones.

The KM-2740 Series has a 1 to 1 by volume or weight mix ratio and is well suited to the automatic dispensing equipment so vital in sophisticated electrical manufacturing operations. The 2-component KM-2740 Silicone is conveniently color-keyed for accurate mix ratio verification. Solar Compounds offers the KM-2740 Series in multiple grades including: machine or manually mixed, standard and fast cure as well as in mastic, paste or pourable form.

UL-94V-0 approved, KM-2740 Silicones are lightweight, non-corrosive and strippable. They are formulated for a wide range of electrical applications including: cable sealing and splicing, connectors, high-voltage power supplies, HID ballasts and relays. KM-2740 Series Silicones cure with a high gloss and produce void-free castings in potted electrical devices.

Two component Solarite KM-2740 Silicones are easy-to-use and available in hardness ranges from 50 to 85A. Solar Compounds can tailor properties such as thermal conductivity, viscosity and cure time and will custom formulate silicones for specific applications, even for very small volume requirements. In addition to the Solarite KM-2740 product line, Solar also produces soft-cure products based on hybrid epoxy technology and rubber modified epoxies...ideal solutions where lower cost and performance are critical.

With laboratories and formulation facilities in Linden, NJ, Solar Compounds has over 80 years of experience in the research, development and manufacture of insulating and coating materials for high-voltage applications in the power, wire and cable industries. This experience has been an important factor in the development of Solan's line of advanced technology RTV silicone compounds.

Solar Compounds Corporation, 1201 W. Blancke St., Box 1097, Linden, NJ 07036
Phone: (908) 862-2813 - Fax: (908) 862-8061
Web: www.solarcompounds.com - E-mail: sales@solarcompounds.com

More from Test & Measurement