Rotating Lasers project precise lines.
Press Release Summary: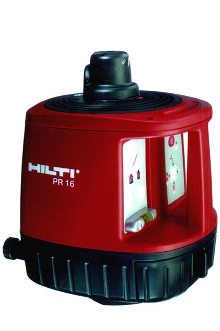 PR 16 and PR 16 IF project visible red solid laser lines on floors, walls, or ceilings. Laser beam can be used for leveling, vertical alignment, single and dual slope, and 90° and parallel layout. Self-leveling function automatically finds horizontal/vertical within 0.1 in. at 60 ft. Accessories include batterboard adapter, facade adaptor, wall mount bracket, detector clamp, 90° tripod adaptor, leveling staffs, and laser glasses.
---
Original Press Release:
Hilti's PR 16 Rotating Lasers
TULSA, (Okla.) - Aug. 8, 2002 - Imagine a bright beam that appears instantly across a wall, floor or overhead, giving laser-precise positioning guidance at the push of a button. There's no need to use your imagination, the new family of Hilti PR 16 Rotating Lasers-PR 16 and PR 16 IF-do this, giving construction professionals precise guidance, right where they need it. The new Hilti PR 16 IF Rotating Laser includes enhanced features for Interior Finishing professionals such as a brighter laser beam-Class IIIa. With the brighter beam, the PR 16 IF covers a working area of 1300 ft. which helps reduce set up time and moving equipment, therefore increasing your productivity on the jobsite. Both the PR 16 and PR 16 IF can be used for leveling, vertical alignment, single and dual slope and even for 90 degree and parallel layout. The visible red laser beam always shows you the right way. "The Magic Chalkline" of the PR 16s allow you to project a solid laser line several inches or several feet long, whether on floors, walls or ceilings. You can "catch" the laser with a Beam Catcher and keep it right where you want it as long as you need it there. Think of it as snapping a chalk line, but it's faster, easier and can be done with just one person and no ladders nor mess. The PR 16 IF is the perfect tool for the layout of drywall track on floors and ceilings, leveling off of suspended ceilings, even at a slope if needed. Hilti provides training on the jobsite for all their laser tools and jobsite signs indicating Class II or Class IIIa lasers are in use. The PR 16 is ideal for indoor or outdoor applications, whether installing formwork, conduit, pipes, electrical cabling, cable trays or drywall, or if the job is outside, performing initial site preparation and leveling. The Hilti PR 16s are fully automatic self-leveling. You can set the tool on a tripod or another solid surface, press the on/off button, and the tools will automatically find the horizontal/vertical within 0.1 inches at 60 feet. The lasers' out of level cut-off function helps guard against incorrect alignment by turning off the beams if the tools have been moved or knocked off of level. Built-in vertical feet allow the PR 16s to be turned on their side to provide a vertical reference for installation of hangers for drop ceilings, sprinkler pipe, cabling suspension systems or lighting fixtures. Another unique feature is the PR 16s ability to provide an accurate laser plane for inclines, such as drainage systems or for construction of vehicular or pedestrian ramps. This versatility allows the PR 16 to meet the varied needs of contractors, whatever their job and wherever it takes them. Several specialized accessories are available to simplify almost any job, including a batterboard adapter, facade adaptor, wall mount bracket, the electronic detector for detecting the beam when its out of visible range, detector clamp, 90° tripod adaptor, a variety of leveling staffs, and laser glasses that improve the visibility of the beams. The rugged, easy-to-use PR 16s have a battery life of about 80 hours when operating on four standard D-cell alkaline batteries. Designed for the toughest worksites, the device is dust and rain protected and comes with the Hilti Two Year Full Service Repair Program, including two free laser calibrations and service.* For additional information on Hilti laser positioning systems, contact a Hilt Customer Service Representative today. From the US, call Hilti, Inc., at 1-800-879-8000 or us.hilti.com; from Canada, call Hilti (Canada) Corporation at 1-800-363-4458 or www.ca.hilti.com. *Some Limitations apply. Contact Hilti for details About Hilti: Hilti is a world-leading manufacturer and supplier of quality, innovative and specialized tools and fastening systems for the professional user. With 700 highly trained Hilti field representatives throughout North America and an additional 1300 Hilti employees nationwide, Hilti expertise covers the areas of powder-actuated fastening, drilling and demolition, diamond coring and cutting, laser positioning and measuring, firestopping, screw fastening, adhesive and mechanical anchoring, and strut and hanger systems. More information on Hilti products and solutions can be found at www.us.hilti.com or www.ca.hilti.com. Hilti adds expertise - in every case - to professionals.
More from Mechanical Components and Assemblies