Rotatable Filter Wheel holds up to 6 filters.
Press Release Summary: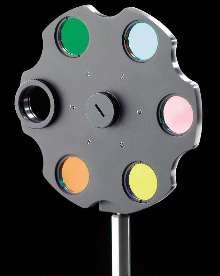 Rotatable Filter Wheel allows users to accurately switch between up to six 1 in. filters. Thin, lightweight assembly has detents in 30° increments, allowing users to click wheel into 12 different positions. Wheel is designed so that 2 wheel assemblies can be positioned face-to-face on breadboard with less than 20 mm separation. Separate C-Mount adapter allows filter wheel to mate with C-Mount components.
---
Original Press Release:

Edmund Optics Offers New Rotatable Filter Wheel


December 21, 2003, Barrington, NJ - Edmund Optics, Inc. (EO) of Barrington, New Jersey has announced that it had added an EO designed and manufactured filter wheel to its catalog offering.

EO's new rotatable filter wheel holds up to six 1"/25mm filters, and allows users to quickly and accurately switch between the six. The thin, lightweight assembly has detents in 30 degree increments, allowing for users to "click" the wheel into 12 different positions. The wheel is designed so that two wheel assemblies can be positioned face-to-face on a breadboard with less than 20mm separation. A separate C-Mount adapter allows the filter wheel to mate with various C-Mount components, also available from EO. Common applications for the filter wheel include fluorescence imaging, attenuation of low powered lasers, and variable filters for machine vision inspection.

About Edmund Industrial Optics Inc.
Edmund Optics (EO) has been a leading supplier of optics and optical components to industry since 1942, designing and manufacturing a wide array of multi-element lenses, lens coatings, imaging systems, and opto-mechanical equipment. EO is application-focused and pursues new ways to implement optical technology, enabling advancements in semiconductor manufacturing, industrial metrology, and medical instrumentation. Our staff and facilities span the US, Europe, Singapore, Japan, and China. EO's skilled optical engineers design precision products for use in research, test & measurement applications, and for the automation of manufacturing processes. Visit www.edmundoptics.com to learn more.

Contact:

Jeff Harvey
Marketing Manager
Edmund Industrial Optics
856-573-6250 ext. 6825
jharvey@edmundoptics.com

More from Architectural & Civil Engineering Products