Rotary Positioning Stages / Tables
Rotary Table adds capability to vertical machining centers.
Press Release Summary: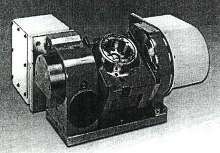 MDAT 2-axis NC Rotary Table adds 4th and 5th axes to 3-axis vertical machining centers by integrating directly into machine tool control. Stand-alone control is operated via M-codes and an RS-232C port connection. Slotted table face measures 3.94 in. dia and has 150° movement on tilt axis with speeds to 11.1 rpm. On rotary axis, movement is 360° with speeds to 22.2 rpm. Both axes can be positioned within .001°. Rotary table, with worm-gear drive, measures 18.62 x 14.37 x 8.86 in.
---
Original Press Release:
Two-Axis NC Rotary Table from LMC Increases Capability of Small Vertical Machining Centers

Logansport, IN - Logansport Matsumoto Company has developed a new two-axis NC Rotary Table that can boost the capability of smaller, three-axis vertical machining centers through the addition of a fourth and fifth axis. Because of its compact size, the Model MDAT also is suitable for use with vertical drilling and tapping machines.

Adding the fourth and fifth axis to an existing three-axis machine is available in two ways. It can be integrated directly into the machine tool control providing 4th and 5th axis contour milling capabilities. As a more economical alternative when only 4th and 5th axis positioning is needed, LMC's PMK-400-2 Control can be utilized. This stand-alone control is operated via M-codes and an RS-232C port connection.

The MDAT Rotary Table has a 100mm (3.94 inches) dia. slotted table face, which provides for the installation of several options, including power chucks, manual chucks, etc. On the tilt axis, it has 150 degrees of movement and 11.1 rpm. On the rotary axis, movement is 360 degrees with a 22.2 rpm. Both axes can be positioned within .001 degree.

The MDAT Rotary Table measures just 473 mm (18.62 inches) wide, by 365 mm (14.37 inches) deep, by 225 mm (8.86 inches) high. It features LMC's patented OTT worm gear drive. The multi-tooth engagement and split worm of the OTT drive system provides smooth rotation with zero backlash, and produces up to three times the driving torque of conventional tables.

The LMC Workholding line includes...

- LMC and Matsumoto hydraulic power chucks, cylinders and wheel chucks;

- LMC Rotary tables for single and multiple axis CMC turning, EDM and other machining applications;

- Atling Steady Rests;

- Neidlein face divers, as well as live and dead centers.

Contact Logansport Matsumoto Company, P.O. Box 7006, Logansport, IN 46947-7006, telephone 574-735-0225, fax 574-722-6559, e-mail info@logan-mmk.com. Website: www.logan-mmk.com.
Related