Rotary Screw Compressors operate from 70-175 psig.
Press Release Summary: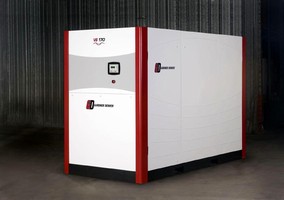 With ability to be configured as air-cooled/water-cooled, VS 80-110 and VS 135-170 Variable Speed series compressors combine Enduro airend with AirSmart control system. They maintain target pressure to ±1 psig and feature Smart Mixing Valve technology that adjusts lubricant injection temperature based on ambient temperature. Models VS 80 and VS 110 provide from 85-558 and 112-719 acfm, respectively, while models VS 135 and VS 170 deliver from 125-862 and 139-1056 acfm, respectively.
---
Original Press Release:

Gardner Denver VS 80 - 170 with AirSmart Control



Variable Speed Air Compressor

Quincy, IL (April 15, 2008) - Gardner Denver, Inc. (NYSE: GDI) VS 80 - 170 with AirSmart Control

Gardner Denver recently expanded its line of Variable Speed, VS series compressors with the addition of the VS 80 -110 and the VS 135-170 models. These new platforms of rotary screw compressors combine the ultra efficient Enduro + airend with the revolutionary AirSmart control system to ensure that power cost is minimized. Each compressor can be configured as air-cooled or water-cooled to match your application requirements.

The design of these VS models centered on a matched motor, drive, and airend to guarantee efficiency results before the package was designed. The result is superior efficiency and cost savings whether running at full-load, part-load, or low load. Your local Gardner Denver distributor can show you the specific performance curve for the compressor that best meets your needs.

The VS 80 provides from 85 to 558 acfm, while the VS 110 delivers from 112 to 719 acfm. The VS 135 provides from 125 to 862 acfm, while the VS 170 makes from 139 to 1056 acfm. Each machine operates from 70 to 175 psig, and provides unlimited start and stop capability. The efficient design allows for operation from 100% capacity down to 20% capacity, and maintains target pressure to ± 1 psig with less storage than competition. Gardner Denver recommends 0.5 gallons per cfm of storage while competitors typically recommend 2 to 4 gallons per cfm.

These VS Models utilize Smart Mixing Valve Technology that adjusts lubricant injection temperature based on the ambient temperature. This feature keeps the air/oil mixture above the pressure dew point so that water does not condense in the compressor. Longer bearing life and greater reliability are the result.

The design allows for ease of service and provides extremely low noise levels
(72 - 76 dBA) for compressors of this size.

Finally, Gardner Denver variable speed rotary screw compressors are offered with the most extensive extended warranty available. No other variable speed compressors have this much to offer.

Gardner Denver Compressor Division, is a leading global manufacturer of rotary screw, reciprocating and PET air compressors, positive displacement blowers and vacuum pumps, offers expertise in air system design, evaluations and maintenance with remote monitoring capabilities.

For more information call 1-800-682-9868 or visit our web site at www.GardnerDenverProducts.com.

More from Electrical Equipment & Systems