Rotary Lobe Pump, Stator promote sustainable use.
Press Release Summary: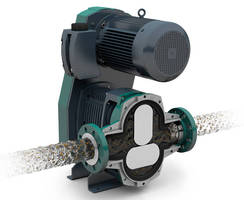 Along with steel or stainless steel rotary lobes, TORNADO® T2 rotary lobe pump features precisely dimensioned elastomer insert vulcanized onto lobe edges. Housing interior is lined with elastomer insert, and machined-in pockets prevent strong pulsation. For progressing cavity pumps, ATEX-certified iFD stator® 2.0 promotes energy and materials conservation via elastomer fixed in position by polygon shape and axial tension. Separation of elastomer and shell minimizes starting torque.
---
Original Press Release:

Sustainable Pumping: New Approaches to Design for Conveying Systems Combine Efficient use of Resources and Service Friendliness



Sustainable pumping: new approaches to design for conveying systems combine efficient use of resources and service friendliness



Holistic technologies, which are environmentally friendly, protect the raw materials and yet operate economically, are the objective of the VDMA's [German Federation of Machine and Systems Manufacturers BLUECOMPETENCE Initiative. For the companies taking part from the various disciplines of machine and systems engineering, the focus is on sustainability – both in equipment pro-duction and in its operation. NETZSCH Pumpen & Systeme GmbH recently em-braced this objective with the simultaneous introduction of two different conveying technologies, one in progressing cavity system and on in the rotary lobe systems.



The key requirements VDMA's BLUECOMPETENCE Initiative include: protecting the environment with innovative technologies, conserving resources, improving our quality of life and producing more efficiently. As a partner company in this manufacturers as-sociation, NETZSCH has achieved improvements in energy efficiency, material use and maintainability in a complete product redesign and in a component redesign.



Reversal of materials reduces wear, pulsation and energy consumption

A radically new rotary lobe pump, the TORNADO® T2, is the example of a complete pump redesign – beginning with the operating principle. The greatest difference with respect to previous pumps of this type is the reversal of materials in the conveying chamber. Conventional rotary lobe pumps depend on two elastomer lobes with somewhat complex spirals that rotate inside a steel housing. The higher dynamic forces does affect the rubber with each rotation and accelerates material ageing. The rotating lobes contact each other again and again causing component erosion. To prevent this, the rotary lobes in this new generation of pumps are made of steel or stainless steel which is considerably more abrasion-resistant and can withstand the constant motion forces for longer period of time without suffering damage. A precisely dimensioned elastomer insert vulcanized onto the lobe edges preserves the material by ensuring that there is only a hard-soft contact between the lobes at any given time during rotation.



The housing interior is lined with an elastomer insert engineered to more easily replaced during maintenance than the conventional wear plates. The insert's geometry also influences the flow conditions. Machined-in pockets allow the conveyed medium to stream smoothly into the pump chambers consequently preventing any strong pulsation. These robust bi-lobe rotors can even be used to transport sensitive products. The new lobe design does not end in tips that are sensitive to abrasion. The design does allow chamber sizes for media with larger solid particles and provides more wear padding due to their long sealing line.



This new material configuration also lowers energy consumption. Friction and its con-sequent power loss is reduced because there is only contact between elastomer and steel. The thin elastomer insert also reacts considerably less to temperature fluctuations than the thick elastomer lobes that are otherwise fitted. Alterations in the dimensions are significantly smaller and can be better controlled, which permits tighter tolerances among various components. The resulting clearances improve the system's performance and level of efficiency. Overall, these design modifications achieve energy savings of approximately ten percent in comparison to previous state-of-the-art technology. 



Alternative to compound material makes disposal and recycling easier



Another target of the VDMA sustainability offensive is the recycling of materials fitted into machines. With this in mind, a new stator technology was developed at NETZSCH specially for the progressing cavity pump field. This stator technology conserves resources via energy savings, materials conservation and, at the same time, some components can be reused. So instead of vulcanizing the elastomer of the stator into an aluminum or steel housing resulting in whole-component disposal when replacement is necessary, the ATEX-certified iFD stator® 2.0 was developed. This stator features a separately-manufactured elastomer that is not materially compounded to the housing. It is fixed in position by the polygon shape and axial tension. If the elastomer has to be replaced due to wear, the iFD shell itself can continue to be used. Complicated and expensive disposal of the rubber-metal composite material is no longer required which not only saves resources, but also protects the environment.



To enable elastomer replacement, the end flange of the pump is dismantled in the usual way. This reduces the pre-tensioning between rotor and stator causing the stator to be pulled off the rotor more easily. Loosening the screws on the stator's sealing unit allow the stator shell to fold away so it can be opened lengthwise. The complete disassembly and assembly only takes a few minutes and it does not require a screw clamp.



More flexible elastomer part reduces torque requirements ultimately requiring less expenditure on maintenance



With conventional designs, the rubber part of the stator loses some of its flexibility due to the rigid connection to the housing. This increases both the breakaway torque and the operating torque requiring more energy and a more powerful drive for pump function. Alternatively, the separation of elastomer and shell of the the iFD stator® 2.0 ensures a lower starting torque, because there is a defined scope of displacement for the stator. The result is that a smaller drive can be used and the energy requirement is lower in comparison to rigid stators.



In addition, the axial flexibility of the elastomer reduces wear, because the elastomer can deflect when there are impurities, for example. Downtimes are reduced and there is significantly less need for maintenance measures. The stator therefore generally pays for itself as early as within the first maintenance period. Overall, savings in terms of spare parts costs constantly increase over the full lifecycle.



Conventional stators can even be replaced by this new iFD stator without any modifications to the pump as it has the same dimensions. It is available in all of the common sizes of the NM series.



Outlook



NETZSCH's examples show that the BLUECOMPETENCE Initiative of a sustainable combination of environmental protection and efficiency is already completely feasible – particularly as economical ways of using resources have a direct effect on production and operating costs. NETZSCH is already making future plans. Against the background of resource conservation and the increase in alternative but expensive power generation, NETZSCH is above all focusing the development of new pumps for savings in terms of energy requirements.



For more than 60 years, NETZSCH Pumps & Systems has served markets worldwide with NEMO® progressing cavity pumps, TORNADO® rotary lobe pumps, grinding ma-chines, dosing systems and accessories, and now Multiple Screw Pumps providing customized, sophisticated solutions for applications in every type of industry. With a workforce of over 1,900 and a turnover of more than 240 million euros (2013 financial year), NETZSCH Pumps & Systems is the largest business unit with the highest turno-ver in the NETZSCH Group, alongside NETZSCH Analyzing & Testing and NETZSCH Grinding & Dispersing.



Contact:

NETZSCH Pumps North America, LLC

119 Pickering Way

Exton, PA 19341

USA

Tel.: 1-610-363-8010

Fax: 1-610-363-0971

npa@netzsch.com

www.netzschusa.com



NETZSCH Pumpen & Systeme GmbH

Geretsrieder Strasse 1

84478 Waldkraiburg

Germany

Phone: +49 8638 63-0

Fax: +49 8638 67981

info.nps@netzsch.com

www.netzsch.com



© NETZSCH Pumps North America, LLC. Printing free of charge. Sample copies requested.

More from Electronic Components & Devices