RollVIA™ Plasma Processing System features gas flow technology.
Press Release Summary: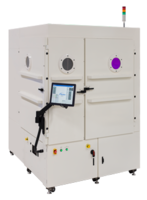 RollVIA™ Plasma Processing System is suitable for printed circuit board manufacturing. Unit is used for surface activation, carbon removal, descum/desmear and etchback. Product comes in 1737 x 2020 x 2323 mm footprint and comes with 40 kHz power supply which is housed in a single enclosure. System allows user to process web widths from 48 to 600 mm and is configurable with 1, 3, or 5 plasma cells.
---
Original Press Release:
Nordson MARCH Introduces the New-Generation RollVIA Plasma System for Roll-to-Roll Production in PCB Manufacturing Operations
Completely Self-Contained with Integrated Pump Package
Nordson MARCH, a Nordson company (NASDAQ: NDSN), a global leader in plasma processing technology, announces its new-generation RollVIA™ plasma system, a completely self-contained vacuum plasma system with production-proven, roll-to-roll material handling for flexible printed circuit board (PCB) manufacturing. The new RollVIA incorporates unique vacuum and gas flow technology, new process control technology, updated electrode designs, and superior temperature management with precise control of roll speed, tension, and edge guidance for uniform plasma treatment of substrates as thin as 25 microns. The RollVIA system is used for plasma applications such as surface activation for improved adhesion, carbon removal and descum/desmear for cleaner surfaces, and etchback, which removes a slight amount of dielectric contamination between internal copper planes during production of PCBs.
Roll-to-roll processing, also known as web processing, reel-to-reel processing, or R2R, is the process of creating electronic devices on a roll of flexible plastic or metal foil. The RollVIA plasma treatment system is self-contained so that the vacuum system, plasma chamber, control electronics, and 40 kHz power supply are housed in a single enclosure. Yet the system has a compact 1737 x 2020 x 2323 mm (69 x 80 x 92 in) footprint and can handle and process web widths from 48 to 600 mm. A service-friendly design with three doors for full front and rear access make substrate loading simple and easy.
The RollVIA system's performance capabilities are complemented by low cost-of-ownership features. In addition to the system's compact and service-friendly design, the RollVIA allows for vertical processing so that equal plasma treatment can be applied to both sides of the substrate, maximizing product quality and throughput. The fast vacuum pump down and process cycle times further add to the throughput and productivity of the system. It's configurable with 1, 3, or 5 plasma cells to meet process requirements.
Nordson MARCH will be exhibiting with partner Zhuhai Unite-Effort Industries Co., Ltd. at HKPCA, being held at the Shenzen Convention & Exhibition Center (SZCEC), Shenzhen, China, from 06 Dec 2017 - 08 Dec 2017 in booth 1V03. Stop by to learn how we can help with all your plasma treatment requirements.
For more information, contact Nordson MARCH at info@nordsonmarch.com or visit the website at www.nordsonmarch.com.
About Nordson MARCH
Nordson MARCH is the global leader in plasma processing technology for the semiconductor, printed circuit board (PCB), microelectronics, and life science & medical device manufacturing industries. Nordson MARCH has offices and laboratories worldwide, including California, Europe, Singapore, China, Japan, Korea and Taiwan. With over 25 years of continuous innovation, Nordson MARCH designs and manufactures a complete line of award-winning and patented plasma treatment systems. An expert staff of scientists and engineers is available to assist in the development of plasma processes that improve product reliability and increase production yields. Visit Nordson MARCH at www.nordsonmarch.com
About Nordson Corporation
Nordson Corporation delivers precision technology solutions that help customers succeed worldwide. Precision dispensing of adhesives, coatings, sealants, biomaterials, and other fluids, plastic extrusion and injection molding, electronics testing and inspecting, and surface preparation are supported by applications expertise and direct global support. Nordson serves consumer non-durable, durable and high-technology markets, specializing in packaging, nonwovens, electronics, medical, energy, transportation, construction, and product assembly. Founded in 1954, headquartered in Westlake, Ohio, USA, Nordson has operations and support offices in 30+ countries. Connect with Nordson at www.nordson.com and on social media.
More from Packaging Products & Equipment