Robotic Water-Cooled MIG Guns come with gas lines.
Press Release Summary: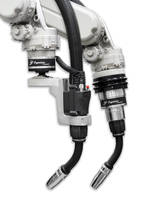 Robotic Water-Cooled MIG Guns are available in CWD and TWD versions which are used for conventional robots and through-arm robots respectively. Units come in amperages ranging from 350 to 600 amps and are equipped with gas diffuser. Products use dual-circuit cooling system and are offered in clutch and solid mount models. MIG guns come with mounting arms, neck options and integrated air blast.
---
Original Press Release:
New Robotic Water-Cooled MIG Guns Offer Lower Total Cost of Ownership
Tregaskiss has introduced two new robotic water-cooled MIG guns that offer superior cooling power for longer gun and consumable life, in addition to zero gas loss for a lower total cost of ownership.
Tregaskiss™ by DINSE™ CWD Robotic Water-Cooled MIG guns are designed for conventional robots, while TWD Robotic Water-Cooled MIG Guns are for through-arm robots. Both guns are available as part of the five-year Master Distribution Agreement between Tregaskiss and DINSE GmbH announced in September 2017.
The new robotic water-cooled guns are available in a variety of amperages ranging from 350 to 600 amps at 100 percent duty cycle. Designed with a dedicated gas line that runs from the back of the guns directly to the gas diffuser, the guns deliver cost savings since shielding gas has zero opportunity to escape.
The guns also use a unique dual-circuit cooling system that runs the length of the front end, providing more effective cooling and lower operating temperatures. This feature results in longer MIG gun and consumable life, as well as less downtime for consumable changeover. Cooler operating temperatures also reduce the amount of spatter that adheres to the nozzle, saving time and money in cleanup, extending nozzle life and lowering overall consumable costs.
CWD and TWD Robotic Water-Cooled MIG Guns are available in clutch and solid mount models, with a variety of mounting arm and neck options to achieve Tool Center Point (TCP). They also include integrated air blast and a simple liner design, with one end pre-dressed at the factory to minimize the opportunity for operator variation in liner trimming.
About Tregaskiss
For more information on welding products from Tregaskiss, call 1-855-MIGWELD (1-855-644-9353) or fax 1-877-737-2111 (in Canada and USA); write Tregaskiss, 2570 North Talbot Road, Windsor, Ontario, Canada, N0R 1L0; email info@tregaskiss.com or visit Tregaskiss.com. Outside North America, call +1-519-737-3030 or fax +1-519-737-1530.
Tregaskiss is an industry leader in the development and manufacture of robotic MIG welding guns, nozzle cleaning stations and consumables, and offers its products worldwide. Its product lines include TOUGH GUN™ Robotic MIG Guns and Reamers, TOUGH LOCK™ Consumables, QUICK LOAD™ Liners, the QUICK LOAD Liner AutoLength™ System and TOUGH GARD™ Anti-Spatter Products. Tregaskiss is a division of ITW Canada Inc., a wholly owned subsidiary of Illinois Tool Works Inc. (ITW), Glenview, Ill., USA. ITW is a diversified multinational manufacturer of highly engineered components, assemblies and systems.
Related