Robot End Effectors fix alignment problems.
Press Release Summary: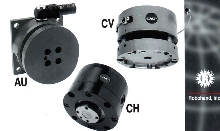 CV vertical compliance devices detect axial misalignment between two parts during assembly process or loading application. CH horizontal compliance devices work when lateral misalignment is present during assembly or loading application. Units provide lateral and rotational compliance to reduce jamming and misalignment. AU series emergency stop modules protect robots or other equipment from loads caused by collisions, excessive moment loads, and programming errors.
---
Original Press Release:
New Products Enhance Winning Robohand End Effector Product Line

August 9, 2002 - Robohand, Inc., located in Monroe, Conn., and the world's leading manufacturer of gripping and transferring productivity solutions, is adding two new compliance devices and an emergency stop to its extensive robotic end effector line.

The CV line of vertical compliance devices can be used to detect axial misalignment between two parts during an assembly process or loading application. Axial compression is spring and air adjustable. Loads are supported in the main body by three shafts riding in ball bushings eliminating binding issues from offset loads. The unit can be pneumatically locked during part transfer.

The CH horizontal compliance device units can be used where lateral misalignment is present during an assembly or loading application. The units provide lateral and rotational compliance to reduce jamming and misalignment. The compliance unit can be locked on or off center to its original position. The unit is designed with a centering repeatability of plus or minus .02 mm and an angular repeatability of plus or minus 10 mm.

The AU series emergency stop modules protect robots or other equipment from loads caused by collisions, excessive moment loads and programming errors. In an overload state an electronic pressure switch sends a signal to the controller to shut operation down protecting tools and equipment from catastrophic collisions. The units are available in a manual or pneumatically re-settable version.

For more information about the robotic end effector solutions or other product offerings from Robohand, or to order a catalog, visit the website: www.robohand.com or send an email to: solutions@destaco.com. Robohand, Inc. is a DE-STA-CO Industries company.

Robohand, Inc.

482 Pepper Street

Monroe, CT 06468-2653

Toll-Free: (800) ROBOHAND

Fax: (203) 452-7418

DE-STA-CO Industries

International Headquarters

31791 Sherman Drive

Madison Heights, Ml 48071

www.destaco.com
More from Electrical Equipment & Systems