Sensors / Detectors / Transducers
RMS RF Power Detector is integrated with directional bridge-based coupler.
Press Release Summary: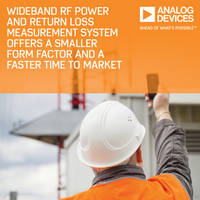 Capable of simultaneously measuring forward and reverse RMS power levels with return loss in a single path down to 9 KHz, ADL5920 RMS RF Power Detector is operated in -40°C to +85°C temperature range with 5 V supply voltage and draws 150 mA current. Offering maximum +30 dBm input signal, unit comes in 32-lead, 5 mm x 5 mm LFCSP and supports small form factors. Unit combines sensing and detection function in space-critical applications for delivering an output to driving ADC directly.
---
Original Press Release:
Analog Devices' Wideband RF Power and Return Loss Measurement System Offers Smaller Form Factor and Faster Time to Market
Analog Devices, Inc. today introduced a 9 KHz - 7 GHz directional bridge and dual RMS RF power detector that can simultaneously measure forward and reverse RMS power levels in a signal path along with return loss. The new ADL5920 detector represents a change to conventional approaches by integrating a directional bridge-based coupler that results in an industry leading level of integration and bandwidth. For space-critical applications, the ADL5920 integrates the coupling or sensing function with the detection function and provides an output that can drive a precision analog-to-digital converter (ADC) directly. For wideband operation or for frequency variants, the ADL5920 detector eliminates the need to choose a different directional coupler for each frequency. This integrated, wideband device supports smaller form factors and faster product time to market.
ADL5920 ​Product Highlights
Allows for coupled power measurements down to 9 KHz
Maximum input signal: +30 dBm with handling capability for open and shorted loads Requires a 5V supply and draws 150 mA
Supplied in a 32-lead, 5 mm x 5 mm LFCSP, for the operating temperature range of -40°C to +85°C
Pricing and Availability
Product                     Sample                      Full Production                Price Each                             Packaging 
                                Availability                                                             Per 1,000
ADL5920                    Now                         December 2017                  $14.50                              5mm x 5mm LFCSP
About Analog Devices
Analog Devices is the leading global high-performance analog technology company dedicated to solving the toughest engineering challenges. We enable our customers to interpret the world around us by intelligently bridging the physical and digital with unmatched technologies that sense, measure, power, connect and interpret. Visit http://www.analog.com.
Related