Right Angle Clinch Fasteners offer alternative to bent tabs.
Press Release Summary: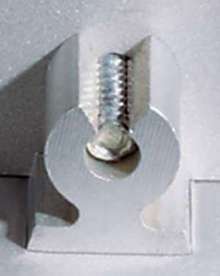 R'ANGLE self-clinching fasteners include self-tapping and steel threaded types that install permanently in metal sheets as thin as .040 mm. Self-tapping Type RAAª aluminum clinch fasteners require thread-forming screws and come in sizes No. 4-40, 6-32, 8-32, M3, or M4. Threaded Type RASª steel clinch fasteners come in No. 4-40, 6-32, and 8-32, M3, and M4 sizes; install in aluminum or steel sheets; and accept standard machine screws.
---
Original Press Release:

R'ANGLE® Right-Angle Clinch Fasteners Offer Practical Alternatives to Brackets or Bent Tabs


Patented PEM R'ANGLE self-clinching fasteners can be utilized to create strong right-angle attachment points in thin steel or aluminum assemblies. These unique fasteners have been developed as cost-effective and practical alternatives to bent tabs at edges of sheets; bent tabs in the middle of sheets; bent flanges; right-angle brackets; or tack welds.

The PEM R'ANGLE product line includes both self-tapping and steel threaded types, which install permanently in metal sheets as thin as .040 mm.

Self-tapping Type RAAª aluminum clinch fasteners are designed for use in aluminum sheets, requiring only a thread-forming screw in sizes #4-40, #6-32 or #8-32 or M3 or M4 to complete final assembly.

Threaded Type RASª steel clinch fasteners in sizes #4-40, #6-32 and #8-32 or M3 and M4 can be installed either in aluminum or steel sheets and accept standard machine screws.

Their benefits for an assembly include more predictable designs and tighter design control, improved shielding characteristics, material and assembly cost savings, reduction of loose hardware, unmarred panel surfaces, and elimination of welding.

Free product samples and literature are available. Contact Michael J. Rossi, PennEngineering Fastening Technologies, Box 1000, Danboro, PA 18916. Phone: (800) 237-4736 or (215) 766-8853; Fax: (215) 766-0143. Web site: www.pennfast.com

More from Fasteners & Hardware