RF Switches operate through 6GHz frequency range.
Press Release Summary: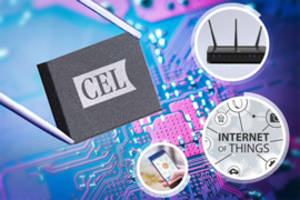 Suitable for test and measurement systems as well as Wi-Fi, ZigBee and Bluetooth routers, sensors, appliances, RF Switches are used to route high frequency signals through transmission paths. Operating over frequency ranges through 6GHz, units are available in single-pole-double-throw(1:2), single-pole-multiple-throw and double-pole-double-throw. Units provide flexibility to create matrices.
---
Original Press Release:
CEL Introduces New High Performance, Low Cost RF Switches for Communication Applications
Compact and highly reliable RF switches optimize transceiver performance for a wide range of IoT, industrial, smart home, medical, automotive and RF test applications.
CEL is introducing a variety of new RF switches that have been designed as easy drop in replacements for a wide range of existing RF products as well as for new designs. Target markets include test and measurement systems as well as Wi-Fi, ZigBee and Bluetooth routers, sensors, appliances, and other radio equipped products.
RF (Radio Frequency) and microwave switches are used to route high frequency signals through transmission paths. They come in different configurations, providing the flexibility to create matrices and automated test systems for many different applications. Typical switch options include: Single-pole-double-throw (SPDT or 1:2) switches that route signals from one input to two output paths. Multiport or single-pole-multiple-throw (SPnT) switches that allow a single input to multiple (three or more) output paths. Double-pole-double-throw (DPDT) switches can be used to switch between two inputs and two outputs
These new low-cost RF Switches operate over frequency ranges through 6GHz and are drop-in compatible to various existing Renesas RF Switch products. (Renesas switches also offered through CEL).
"Our new RF switch portfolio provides customers with a comprehensive selection of high performance devices that are extremely reliable and cost competitive," says Marc Sheade, Vice President and General Manager, Components Business. "We maintain and improve on Renesas' reputation of providing high performance and high reliability components at a very low cost of ownership."
CEL's RF Switches are available at lower prices than their equivalent drop-in Renesas RF Switches (CEL is manufacturing these RF Switches in Japan with the same high quality as the Renesas RF Switches).
Some of these new switches include:
CG2179MT (SPDT) highly affordable, general purpose RF switch
CG2214M6 (SDPT) low cost general purpose RF switch with low insertion loss
CG2185X2 (SPDT) compact wideband RF switch for WLAN applications
CG2163X3 (SPDT) Wideband RF switch for WLAN providing high isolation features
CG2415M6 (SPDT) Wideband RF switch for WLAN that features medium power and high isolation
CG2430X1 (SP3T) Wideband RF switch for WLAN and Bluetooth
CG2176X3 (Absorptive SPDT) High Power, Wideband RF Switch for WLAN
Data sheets for these and other RF Switches are available on http://www.cel.com/
About CEL
CEL offers a broad selection of wireless and networking components including RF/microwave transistors and ICs, optical-coupler ICs, laser diodes, photo diodes and high-speed interface ICs. CEL also designs and produces Cortet™ and MeshConnect® wireless solutions and platforms for IoT applications.
CEL is the exclusive gateway into the Americas for RF and Optical Semiconductors from Renesas Electronics (formerly NEC Electronics). We also build on our more than fifty years of wireless excellence to offer our own wireless components and solutions in addition to those from Renesas. Our team of highly skilled Applications Engineers supports diverse designs using components from all product lines.
CEL has technical centers in Santa Clara, California (Silicon Valley), Buffalo Grove, Illinois (Chicago area) and Lafayette, Colorado (Boulder/Denver area). CEL supports customers through direct sales offices, sales representatives, and distributors worldwide, with offices in Hong Kong and Tokyo that support the Asia Pacific region.
For more information, visit cel.com
More from Material Processing