RF and Microwave Modules facilitate rapid prototyping.
Press Release Summary: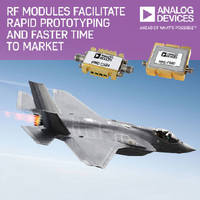 Featuring fully integrated, hermetically sealed design, HMC Series Modules shorten proof-of-concept phase of design cycle and help minimize overall in-house technical support needed to assemble, test, and validate design. Series includes: HMC-C582 ultra-wideband power amplifier module ranging from .01–20 GHz; HMC-C583 single pole single throw switch module ranging from 0.1–40 GHz; HMC-C584 0.1–40 GHz, 31 dB, 5-bit digital attenuator module; and HMC7891 2–18 GHz limiting amplifier module.
---
Original Press Release:

ADI Expands Portfolio of High Performance RF and Microwave Standard Modules to Facilitate Rapid Prototyping and Faster Time to Market



NORWOOD, Mass.--Analog Devices, Inc. (ADI) today introduced four high performance RF and microwave standard modules that extend and strengthen its standard module product portfolio. The new modules complement ADI's existing product offerings by delivering easy-to-use, fully integrated, hermetically sealed solutions that dramatically shorten the proof-of-concept phase of the design cycle and help reduce the overall in-house technical support needed to assemble, test, and validate a design. Analog Devices offers the largest and most diverse portfolio of RF and microwave modules available on the market today. Unlike many other module manufacturers, ADI uses its own Monolithic Microwave Integrated Circuits (MMICs) in each module, which guarantees consistent high quality, reliability and performance in any application.



View product pages, download data sheets, order samples, and evaluation boards:

http://www.analog.com/en/products/hmc-c582.html

http://www.analog.com/en/products/hmc-c583.html

http:www.analog.com/en/products/hmc-c584.html

http:www.analog.com/en/products/hmc7891.html 



Learn more about ADI's standard module portfolio: http://www.analog.com/media/en/news-marketing-collateral/solutions-bulletins-brochures/Connectorized-Solutions.pdf



Connect with engineers and ADI product experts on EngineerZone®, an online technical support community https://ez.analog.com/community/rf



"ADI's comprehensive portfolio of standard module products allows our customers to construct quickly and easily a fully operational prototype in less than half the time it takes to design and build from a clean sheet of paper," said Bryan Goldstein, general manager, Aerospace and Defense Business Unit, Analog Devices. "These hermetically sealed, high-reliability products allow our customers to provide rapid prototype demonstrations and deliver these products into commercial and military flight systems as production ready components. If required, ADI can perform additional levels of screening such as radiation hardening to ensure complete compliance for space-related applications."



Pricing and Availability







Product 



Description



Full Production



Packaging





HMC-C582



.01 GHz to 20 GHz, Ultra Wideband Power Amplifier Module



Now



ML-4-1





HMC-C583 



0.1 GHz to 40 GHz Single Pole Single Throw Switch Module (SPST) 



Now 



ML-5-1





HMC-C584



0.1 GHz to 40 GHz, 31dB, 5-Bit Digital Attenuator Module 



Now 



HML-10-1 





HMC7891



2 GHz to 18 GHz Limiting Amplifier Module



Now



ML-4-2
 





                                       

About Analog Devices

Analog Devices (NASDAQ): ADI) designs and manufactures semiconductor products and solutions. We enable our customers to interpret the world around us by intelligently bridging the physical and digital worlds with unmatched technologies that sense, measure and connect.



EngineerZone is a registered trademark of Analog Devices, Inc.

Follow ADI on Twitter at http://www.twitter.com/ADI_News

Read and subscribe to Analog Dialogue, ADI's monthly technical journal, at: http://www.analog.com/library/analogdialogue/



Contacts

Analog Devices, Inc.

Linda Kincaid, 781-937-1472

linda.kincaid@analog.com

More from Vision Systems