Rework Station removes, replaces, and resolders SMDs.
Press Release Summary: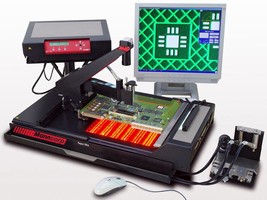 Martin Expert lead-free rework system v09.6 automatically accomplishes SMT repair, from removal to replacement, as well as resoldering of BGAs, CSPs, µBGAs, and other SMDs. In addition to Hi-Res camera combined with Auto Vision Placement, PC-controlled solution provides IR underheating unit that adjusts to exact board size, software that automatically generates profiles for all solder and desolder processes; as well as nozzles for placement, soldering, and solder removal.
---
Original Press Release:

Rework Station from Manncorp Automatically Removes, Replaces & Resolders SMDs



Advancements that further automate and facilitate usage of the acclaimed Martin "Expert" lead-free rework system have been announced by Manncorp. The new 09.6 version of the PC-controlled station automatically accomplishes virtually any stage of SMT repair, from removal to replacement, as well as the resolder of BGAs, CSPs, µBGAs and other SMDs.

During placement, a high-resolution camera combined with Martin's exclusive Auto Vision Placement (AVP), precisely controls component positioning in full and continuous view of the operator. There is no need to shuttle the camera out of the path of the placement head, as is the case with most vision-based rework systems.

The innovative IR underheating unit conserves energy by adjusting to the exact board size. It quickly and gently heats the underside of the PCB to minimize the heat applied from the top side and attains lead-free processing temperatures faster, with no possibility of board warpage or component damage. Advanced software automatically generates profiles on line or visually in real time for all solder and desolder processes.

Included is a selection of nozzles for placement, soldering and solder removal, for which a vacuum pen is also provided, as well as a flux pen and a paste dispensing unit for resoldering. Data logging with QC reporting function is optional. For details, access manncorp.com/rework/expert096-096xl/index.php?auto=done or info@manncorp.com.

More from Software