Reticle Inspection Systems cover nodes to 20 nm and beyond.
Press Release Summary: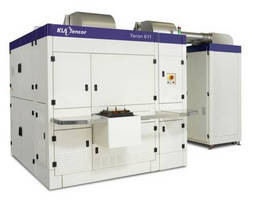 IC fab-based inspection systems X5.2(TM) and Teron(TM) 611 comprise Total ReQual(TM) solution for monitoring defectivity and pattern degradation resulting from cleaning or exposure. While sensitivity of Teron 611 is optimized for 20 nm node and beyond, X5.2 works on full mask sets at 28 nm and larger design nodes as well as 20 nm node. Both systems offer fifth-generation STARlight® inspection mode for full area coverage on multi- and single-die reticles.
---
Original Press Release:

KLA-Tencor Announces X5.2(TM) and Teron(TM) 611 Reticle Inspection Systems



Total ReQual(TM) Solution for Reticle Monitoring in the IC Fab

MILPITAS, Calif. -- Today KLA-Tencor Corporation (NASDAQ: KLAC) announced two new additions to the company's IC fab-based reticle inspection portfolio: the X5.2(TM) and Teron(TM) 611 systems. As the latest offering in the successful 5XX product line, the new X5.2 applies its high performance to capture defects and pattern degradation on masks currently in production, with extended capability for the upcoming 20nm node. The Teron 611 is designed for the 20nm node and beyond, offering technology-enabling sensitivity to inspect masks at the leading edge of IC production.

"New cleaning processes and smaller pattern features on the mask have altered the landscape for reticle monitoring in the fab," said Yalin Xiong, Ph.D., general manager of the Reticle Products Division at KLA-Tencor. "Primary and assist pattern features are not only smaller at the 20nm node, but the distinction between them is becoming blurred--making it more difficult to determine whether a defect will affect the pattern on the wafer. Our customers are also increasingly concerned with the effect of mask pattern degradation on the process window--a result of repeated cleaning and exposure. We have designed the X5.2 and Teron 611 inspection systems to comprise a Total ReQual(TM) solution, monitoring defectivity and pattern degradation down to the 20nm node and beyond."

The extensive capabilities of the X5.2 and Teron 611 tools include:

-- Technology-enabling sensitivity for inspection of the most critical masks at the 20nm node (Teron 611);
-- High sensitivity to the remainder of the 20nm mask set and full mask sets at the 28nm and larger design nodes (X5.2);
-- Early detection of pattern degradation from cleaning or exposure, designed to alert engineers to process window narrowing before the point of collapse;
-- Fifth-generation STARlight(®) inspection mode for full area coverage on multi- and single-die reticles; preferential defect capture on edges and sidewalls of pattern; and dependable capture of defects in open areas;
-- Advanced algorithms providing reliable discrimination between nuisance events and defects of interest (DOI);
-- Highly flexible architecture allowing adjustment of sensitivity and speed to address a fab's changing product mix, product life cycle and yield status;
-- Optional configuration providing industry-leading throughput for advanced design nodes (X5.2); and
-- Unique connectivity to KLA-Tencor's e-beam defect review platform, the eDR-7000, enhancing speed and accuracy of on-wafer defect population profiling.

X5.2 and Teron 611 systems have been shipped to leading chip manufacturers in the United States and Asia, where they are being used in 28nm production and 20nm pilot lines. To maintain high performance and productivity, the X5.2 and Teron 611 tools are backed by KLA-Tencor's global, comprehensive service network. For more information on KLA-Tencor's IC fab-based reticle inspection tools, please visit the product web pages at: www.kla-tencor.com/front-end-defect-inspection/rapid-ic-fab-series.html.

About KLA-Tencor:
KLA-Tencor Corporation, a leading provider of process control and yield management solutions, partners with customers around the world to develop state-of-the-art inspection and metrology technologies. These technologies serve the semiconductor, data storage, LED, photovoltaic, and other related nanoelectronics industries. With a portfolio of industry-standard products and a team of world-class engineers and scientists, the company has created superior solutions for its customers for more than 35 years. Headquartered in Milpitas, Calif., KLA-Tencor has dedicated customer operations and service centers around the world. Additional information may be found at www.kla-tencor.com (KLAC-P).

CONTACT: Investor Relations, Ed Lockwood, Sr. Director, Investor Relations, +1-408-875-9529, ed.lockwood@kla-tencor.com, or Media Relations, Meggan Powers, Sr. Director, Corporate Communications, +1-408-875-8733, meggan.powers@kla-tencor.com

More from Computer Hardware & Peripherals