Reticle Inspection System monitors sub-20 nm design nodes.
Press Release Summary: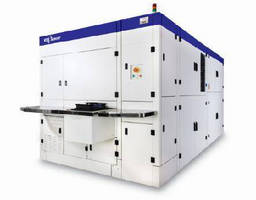 With 193 nm illumination, Teron™ SL650 assesses incoming reticle quality, monitors degradation, and detects yield-critical reticle defects, such as haze growth or contamination. System supports mix of reticle types by using STARlightSD™ and STARlightMD™ to produce defect capture and comprehensive inspection coverage on single- and multi-die reticles, respectively. Chipmakers can also use STARlightMaps™ technology to identify CD, film thickness, anti-reflective coating, and other variations.
---
Original Press Release:

KLA-Tencor Announces New Teron(TM) SL650 Reticle Inspection System



High productivity and 193nm technology facilitate cost-effective IC fab reticle monitoring for sub-20nm design nodes



MILPITAS, Calif., – Today, KLA-Tencor Corporation (NASDAQ: KLAC) announced the Teron™ SL650, a new reticle quality control solution for IC fabs that supports 20nm design nodes and beyond. With 193nm illumination and multiple STARlight™ optical technologies, the Teron SL650 provides the sensitivity and flexibility required to assess incoming reticle quality, monitor reticle degradation and detect yield-critical reticle defects, such as haze growth or contamination in patterned and open areas. In addition, the Teron SL650's industry-leading production throughput supports the fast cycle times required to qualify the increased number of reticles associated with advanced multi-patterning techniques.



"For IC manufacturers, understanding the reticle state is a central component of patterning process control as changes in reticle quality can have a devastating impact on every wafer printed," said Yalin Xiong, Ph.D., vice president and general manager of the Reticle Products Division (RAPID) at KLA-Tencor. "With the Teron SL650, our team has incorporated state-of-the-art reticle inspection technologies on a compact platform suitable for the IC fab, producing a reticle quality control system with advanced sensitivity, high productivity and extendibility for future nodes. By monitoring incoming reticles for critical defects and identifying progressive defects and changes to the mask pattern during production, our Teron SL650 can help chipmakers protect device yield, performance and cycle time."



The Teron SL650 supports a mix of reticle types within the fab by using STARlightSD™ and STARlightMD™ to produce superior defect capture and comprehensive inspection coverage on single- and multi-die reticles, respectively. Chipmakers can also use the innovative STARlightMaps™ technology to track reticle degradation over time and identify CD, film thickness, anti-reflective coating and other variations across the reticle--changes in reticle quality that can affect the lithographic process window or pattern printing. Moreover, the Teron SL650 is EUV-compatible, enabling early collaboration with IC manufacturers on in-fab EUV reticle inspection requirements.



Multiple Teron SL650 reticle inspection systems have been installed at foundry, logic, and memory manufacturers worldwide where they are being used for incoming quality check and re-qualification of reticles used in advanced IC manufacturing. To maintain the high performance and productivity demanded by leading-edge production, the Teron SL650 systems are backed by KLA-Tencor's global comprehensive service network. More information on the Teron SL650 reticle inspector can be found on the RAPID IC Fab Series product page.



About KLA-Tencor:

KLA-Tencor Corporation, a leading provider of process control and yield management solutions, partners with customers around the world to develop state-of-the-art inspection and metrology technologies. These technologies serve the semiconductor, LED and other related nanoelectronics industries. With a portfolio of industry-standard products and a team of world-class engineers and scientists, the company has created superior solutions for its customers for more than 35 years. Headquartered in Milpitas, Calif., KLA-Tencor has dedicated customer operations and service centers around the world. Additional information may be found at http://www.kla-tencor.com (KLAC-P).



CONTACT:

Media Relations:

Meggan Powers

Sr. Director, Corporate Communications

(408) 875-8733

meggan.powers@kla-tencor.com

More from Sensors, Monitors & Transducers