Resealable Interface facilitates microfluidic chip surface access.
Press Release Summary: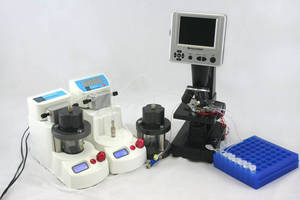 Pressure-driven Resealable Chip Interface System, designed for applications requiring access to microfluidic chip surface, enables tool-free assembly of glass, quartz, or polymer resealable chips. Functionality lets user deposit reagents, sensors, biosensors, or cells onto chip base layer for exposure to fluid stream. Along with Resealable Chip Interface that allows up to 8 fluidic and 8 electrical connections per chip, modular system comprises 4-way linear connectors, and Mitos Pressure Pumps.
---
Original Press Release:

Dolomite's Resealable Chip Interface Offers Easy Access to Microfluidic Chip Surface



Dolomite – the pioneering microfluidics specialist – has launched a Pressure-driven Resealable Chip Interface System designed for applications requiring quick and easy access to the microfluidic chip surface. Compact and robust, this easy-to-use system enables tool-free assembly of glass, quartz or polymer resealable chips, allowing the user to deposit reagents, sensors, biosensors or cells onto the chip base layer for exposure to the fluid stream.



The modular, flexible system comprises a Resealable Chip Interface – allowing up to eight fluidic and eight electrical connections per chip – 4-way linear connectors, and Mitos Pressure Pumps for pulseless, stable flow from 70 nl to 5 ml a minute, at pressures of up to 10 bar. For direct, accurate control of flow rates, Mitos Flow Rate Sensors can also be included. The versatile Resealable Chip Interface System is ideal for a broad range of applications, including biosensor testing, cell culture analysis, dielectrophoresis experiments, impedance detection and applications where cleaning or replacement of some parts of the system is required between experiments. The system is also compatible with a range of microscope systems – for straightforward imaging and recording – and Dolomite's optional Mitos P­Pump Remote Chambers, which allow up to 30 ml of fluid to be conveniently located in a pressurised, sterile environment for easy temperature control or agitation, ensuring you can develop a set-up to meet your application needs.    



For more information, visit http://www.dolomite-microfluidics.com/webshop/resealable_chip_interface_system



About Dolomite

Established in 2005 as the world's first microfluidic application centre, Dolomite focused on working with customers to turn their concepts for microfluidic applications into reality.



Today, Dolomite is the world leader in solving microfluidic problems. With offices in the UK, US and Japan, and distributors throughout the rest of the world, its clients range from universities developing leading-edge analytical equipment, to manufacturers of chemical, life sciences and clinical diagnostics systems.



© 2014 kdm communications limited



kdm communications limited

Cressner House, Suite 3

12 Huntingdon Street

St Neots, PE19 1BG

Tel +44.1480.405333 

Fax +44.1480.477833 

Skype kdm.communications.ltd

www.kdm-communications.com

Related