Removable Liquid Gasket seals frequently serviced flanges.
Press Release Summary: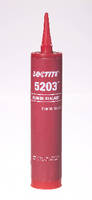 Designed to seal close-fitting flanges against same temperatures, pressures, and chemicals as traditional liquid gaskets, Loctite® 5203(TM) removes without machining or chemicals. Red anaerobic gasketing material ranges in viscosity from 50,000-100,000 cP and fills gaps to 0.010 in. without primer or 0.020 in. with primer. Designed to withstand operating temperatures from -65 to 300°F, gasket fully cures in 15 min to 6 hr and is suited for use in engines, pumps, and compressors.
---
Original Press Release:
Loctite Removable Liquid Gasket Reliably Seals Frequently Services Flanges
Easy-to-Service Anaerobic Flange Sealant Removes Without Abrasion or Solvents Rocky Hill, Conn. - August 24, 2009... A new easy-to-service anaerobic gasketing material from Henkel Corporation, Loctite(R) 5203(TM), reliably seals close-fitting flanges against the same temperatures, pressures and chemicals as traditional liquid gaskets, yet removes easily without machining or chemicals. Used to bond and seal flanges in a range of equipment including engines, pumps and compressors, traditional anaerobic gasketing materials can be removed only with solvents or manual abrasion techniques. Ideal for use on frequently-serviced flanges, Loctite(R) 5203(TM) eliminates the maintenance steps associated with resurfacing the flange as a result of scraping, sanding or abrasion. This anaerobic gasketing material resists low pressures immediately after flange assembly, even before the sealant is fully cured. As the formulation is oil tolerant, it will cure through limited oil films. Loctite(R) 5203(TM) fully cures in 15 minutes to six hours. This red liquid ranges in viscosity from 50,000 to 100,000 cP and fills gaps to 0.010-inch without a primer or 0.020-inch with the application of a primer. This gasketing material withstands operating temperatures from -65 to 300 degrees F. For more information on Loctite(R) 5203(TM) Easy-to-Service Flange Sealant, call 1-800-LOCTITE (800-562-8483) or visit the company's Web site at www.henkelna.com/mronew. For a brochure on the latest Loctite(R) flange sealants, call 1-800-LOCTITE and ask for LT-5347. Henkel has been committed to making people's lives easier, better and more beautiful for more than 130 years. A Fortune Global 500 and Germany's most admired company according to a recent Fortune survey, Henkel offers strong brands and technologies in three areas of competence: Home Care, Personal Care and Adhesive Technologies. Each day, more than 52,000 employees in 125 countries are dedicated to fulfilling Henkel's claim "A Brand like a Friend." In fiscal 2008, Henkel generated sales of 14,131 million euros and adjusted operating profit of 1,460 million euros. Henkel Corporation
One Henkel Way
Rocky Hill, CT 06067
860-571-5100
http://www.henkelna.com
More from Materials