Remote Control Interface allows integration of hipots.
Press Release Summary: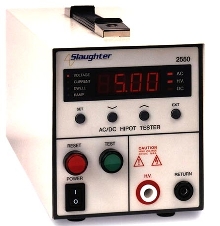 Series 2500 features AC, DC and AC/DC hipots with test voltages up to 5,000 V and adjustable trip currents up to 100.0 mA AC, and 3.00 mA DC. Remote control allows instruments to be used in automated applications and stand-alone manual applications. Microprocessor-controlled hipots include line-and-load regulation, LED display with meter memory, tamper-resistant front panel, auto shut-down of high voltage upon failure, and electronic ramp and dwell.
---
Original Press Release:
Enhanced Remote Control For Low-Cost Microprocessor-Controlled Hipots

New enhanced remote control interface allows easy integration of
hipots into automated environments.

Ardmore, Oklahoma, February, 2002: Slaughter Company today announced the addition of an enhanced remote control interface to its family of low-cost, fully microprocessor-controlled hipots. The 2500 series features AC, DC and AC/DC hipots, and offers the enhanced capabilities, safety and reliability made possible by microprocessor technology at prices hundreds of dollars lower than comparable competitive units.

The new enhanced remote control allows these instruments to be used in automated applications, as well as stand-alone manual applications. Additionally, these models differ from conventional analog testers in several respects, with key benefits being ease-of-use, enhanced operator safety, increased
efficiency, and improved test accuracy and reliability. Designed to meet most UL, CSA, VDE and IEC test requirements, including the UL 120 KQ standard, these models feature easy-to-read digital
displays with intuitive, user-friendly menus and front panel controls. An important feature not available in analog hipots allows an operator to set test parameters in the absence of any high voltage, thus avoiding a potential shock hazard. These instruments also feature electronic ramp and dwell, which
improves efficiency and is required by some agencies. Finally, each instrument includes line-and-load regulation to ensure better and more reliable testing, since proper voltage is consistently applied to all devices being tested, regardless of fluctuations in line input voltage or the load created by the device under test.

The 2500 series provides test voltages up to 5,000 volts and adjustable trip currents up to 100.0 mA AC, and 3.00 mA DC. These instruments offer an unbeatable value with prices starting at $895.00.

Key Features and Specs for the 2500 Series pP-Controlled Hipots
* Meet UL, CSA, VDE & IEC requirements, including UL 120 KQ
* Test start, reset and safety interlock inputs
* Reject, test-in-progress and pass/fail outputs
* Display voltage or leakage current during testing
* No high voltage present during setup
* Auto shut-down of high voltage upon failure, with audible buzzer and reject light
* Front panel calibration and tamper-resistant front panel design
* Easy-to-read LED display with meter memory
* Line-and-Load regulation increases test reliability and repeatability
* Electronic ramp and dwell
* Prices starting at $895.00
* Include test leads and NIST-traceable Certificates of Conformance


More from Laboratory and Research Supplies and Equipment