ReleaSys Mold Release Agent is thermally stable.
Press Release Summary: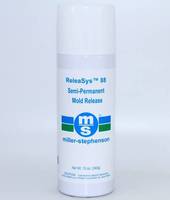 Compatible with resins, composites, urethanes and elastomers, ReleaSys Mold Release Agent provides water-based options for reducing environmental impact. Reducing downtime and scrap rates, product minimizes mold fouling. Suitable for construction, marine, recreational and wind energy industry, ReleaSys is made from wax- and silicone-free release agents and offers high slip, chemical resistance and consistency.
---
Original Press Release:
Miller-Stephenson's New Semi-Permanent Release Agents - ReleaSys
Miller-Stephenson's new ReleaSys product line offers the most advanced semi-permanent thermoset mold release agent chemistries available. ReleaSys is Miller-Stephenson's most cost-effective, highest performing release agent capable of dramatically reduced re-application frequency, greater product throughput, and lower rejection rates. ReleaSys excels in compression, transfer, and injection molding and is compatible with a broad range of resins, composites, urethanes and elastomers. Our formulations are ideally suited for molding in geometrically complex molds or when using abrasive molding substrates. These wax- and silicone-free release agents crosslink to create a low surface energy film which exhibits high slip, superior durability, chemical resistance, and thermally stable. Large and small manufacturers can expect higher productivity and profitability through reduced downtime, increased acceptance rates and improved part quality when switching to Miller-Stephenson's ReleaSys semi-permanent line. Miller-Stephenson ReleaSys mold release systems have been optimized to cover industry applications from Fiber Reinforced Plastic (FRP) to advanced composites and from aerospace applications to automotive, construction, marine, recreational/sporting goods, wind energy and more.
Miller-Stephenson combines great technical and industry knowledge with a hands-on approach to service and support to address the challenges faced by our customers in their composite molding operations. Beyond the basics of releasing finished parts from their molds, utilizing our robust portfolio of ReleaSys semi-permanents mold release agents along with our industry leading support network, brings significant operational benefits.
Water-based options for reducing environmental impact and improving facility HSE
Flexibility to accommodate a wide range of process conditions
A global network of support experts to work with you to eliminate bottlenecks and improve process flow
Cost-effective, high durability, and consistent mold release
Reduced downtime and scrap rates
Minimal mold fouling and transfer
Miller-Stephenson specializes in providing only the highest performing and cost-effective mold release agent solutions for it customers, hence our companies specializes in providing PTFE and thermosetting polysiloxane based release agents. Our company is 100% back-integrated meaning our manufacturing, inventory, and quality are maintained regardless of fluctuations in the market. In an effort to help guide process engineers in selecting which agent would work best for their molding application we have summarized the leading attributes for each of our agents.
Miller-Stephenson mold release agents are backed by over 40 years of research and development and are relied upon by global industries to ensure efficient, cost effective, and high quality release of their molded parts. By pioneering release agent solutions for many of the largest manufacturing organizations, Miller-Stephenson understands what it takes to release the most complex materials in the most demanding molding applications. We have solutions which are optimized for your molding operations; from airplane stow bins to O-rings, carbon-fiber bike frames to tires, Miller-Stephenson has a solution for your molding operation.
Contact:
Zayyan Chowdhury
Digital Marketing Specialist
Miller-Stephenson Chemical Co.
55 Backus Ave
Danbury, CT 06810
Phone: 2037434447
Email: zchowdhury@mschem.com
url: https://www.miller-stephenson.com/chemicals/mold-release-agents/
More from Machinery & Machining Tools