Relay Output Module meets power switching requirements.
Press Release Summary: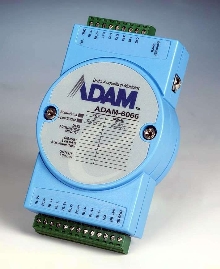 Equipped with Ethernet I/O, Model ADAM-6066 features 6 relay output channels, rated 5 A at 240 Vdc, that support standard switching and pulse-width outputs. It has embedded web server for remote monitoring and supports Modbus/TCP and UDP protocols to meet standard communication requirements. Watchdog timer and host idle function secure communication. Unit is suited for driving externally controlled devices such as lights, fans, and alarm systems.
---
Original Press Release:

Advantech Releases High-powered Relay Output Module with Ethernet I/O


Cincinnati, Ohio (March 2, 2005) - Advantech Corporation, Industrial Automation Group is proud to release the ADAM-6066, a high current relay output module to meet the requirements of power switching applications.

The ADAM-6066's six relay output channels are rated at 5A at 240 VDC, and support both standard switching and pulse-width outputs. In addition, the ADAM-6066 has an embedded web server for remote monitoring, supports Modbus/TCP and UDP protocols to meet standard communication requirements, and offers personalized settings for improved flexibility. Its watchdog timer and host idle functions secure communication for reliable operation.

The biggest advantage to the ADAM-6066 is its power relay rating at 240 V AC and 5 A. This range can satisfy most requirements for driving externally controlled devices such as lights, fans, alarm systems, and various electronic devices in industrial automation, security, building and home automation applications.

The ADAM-6066's relay output channels support not only typical maintained contact output, but also pulse output signals. With pulse output signals, the ADAM-6066 can be used for Pulse Width Modulation (PWM) signals for time-proportional control applications, pulse-type start/stop control coils in motor control, and multi-stage control such as multi-stage lighting control applications.

The ADAM-6000 Series consists of industrial-grade automation components with Ethernet connectivity for networked solutions in industrial automation environments. Its mixed I/O modular design optimizes the performance and usage of I/O and minimizes engineering efforts and maintenance costs. All modules are also equipped with an embedded web server so that their data can be viewed via a web browser. Moreover, ADAM-6000 allows users to configure user-defined web pages to meet the diverse needs of various applications.

The ADAM-6066 has a list price of $210. It is available for purchase directly from Advantech or from one of Advantech's North American distributors at eAutomationPro.com.

For more information or to locate an Advantech distributor, visit eAutomationPro.com.

Advantech Corporation, Industrial Automation Group - Founded in 1983, the Industrial Automation Group of Advantech Corporation is the only complete PC-based Industrial Automation Solution Manufacturer offering products such as Industrial PCs, Workstations, Panel PCs, Flat Panel Monitors, Heavy Environmental PCs, Customized PCs, Single Board Computers, Data Acquisition & Control Devices and Web-enabled products for a wide array of industries. Drawing on the talents of more than 1,800 people, Advantech operates an extensive sales and marketing network in 16 countries and 35 major cities to deliver fast time-to-market services to our worldwide customers. Today Advantech offers over 700 products and solutions, adding 30 new products each year. US operations for the Industrial Automation Group are based in Cincinnati, OH (877-294-8989). Address: 1320 Kemper Meadow Drive, Suite 500, Cincinnati, Ohio 45240. Web: eAutomationPro.com. Email: info@eAutomationPro.com

Brandon Rhoten
Advantech Corporation, Industrial Automation Group
(513) 742-8895 x333
website: eAutomationPro.com
media website: http://www.advantech-eautomation.com/media

More from Material Handling & Storage