Relay-Couplers replace transmission and switch combinations.
Press Release Summary: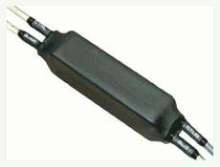 Series AMB/A-RE-C relay-couplers transmit signal without distortion while maintaining network performance where groups of equipment need to be simultaneously disconnected. In addition to transmitting to device signals conforming to MIL-STD-1553B, they can also switch signal to another line or to particular component on demand. Suited for missile applications, Series AMB/A-E-D couplers can switch stub line to high impedance load of 3 Kohms.
---
Original Press Release:

Relay-Couplers Replace Transmission and Switch Coupler Combinations


AXON' CABLE has developed relay-couplers for aeronautics and military applications (MIL-STD-1553) where device signals must be able to switch to another line or to automatically disconnect one set of devices without affecting other remote terminals.

The relay-couplers of the AMB/A-RE-C series have been specially designed for test benches on the ground or separation modules such as in missile applications.

Relay-couplers transmit the signal without distortion while maintaining network performance where groups of equipment need to be simultaneously disconnected. Relay-couplers can transmit to a device signals conforming to MIL-STD-1553B. But they are also able to switch the signal to another line or to a particular component on demand, for example, commuting the bus line onto a load impedance.

The advantage of relay-couplers is that they can replace the combination of a transmission coupler (type AMB/A-C1X) and a switch coupler (type AMB/ARE-A). The design and cabling of harnesses are therefore simplified.

The AMB/A-E-D relay couplers can switch the stub line to a high impedance load (3 Kohms). These relay-couplers are perfectly suited for missile applications. They can be connected to classical couplers with the help of splices (AMB/A-S-xx or JN1110) or connectors designed for 1553 bus applications (AXON' ACB1 connector).

For more information, contact: Axon' Cable Inc.; 1314 Plum Grove Road; Schaumburg, IL 60173/USA. Phone: 847-230-7800. Fax: 847-230-7849. Website: www.axoncable.com

More from Services