Regenerative Blowers are corrosion resistant.
Press Release Summary: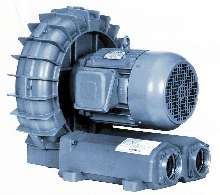 Regenerative Blowers feature Chem-Tough(TM), which combines advantages of aluminum oxide ceramic and fluoropolymers to provide chemical resistance, hardness, abrasion resistance, and lubricity. Chem-Tough finishing employs anodizing, hard-coat plating, low-friction polymers, and dry lubricants to become part of blower's molecular structure. It will not peel or chip and can not be scratched, flaked, or nicked under ordinary conditions.
---
Original Press Release:
Ametek Rotron Regenerative Blowers Feature Chem-Tough(TM) Corrosion Resistance
KENT, OHIO, USA - AMETEK Rotron Technical and Industrial Products offers a range of regenerative blowers with the ability to stand up to corrosive chemical processing and specialty gas applications. AMETEK Rotron applies its own proprietary Chem-Tough(TM) finishing to build blowers for handling corrosive chemical (vapor) streams. Chem-Tough combines the advantages of aluminum oxide ceramic and selected fluoropolymers to provide Rotron blowers with unmatched levels of chemical resistance, hardness, abrasion resistance and lubricity. Rotron's Chem-Tough finishing employs the advantages of anodizing, hard-coat plating, low-friction polymers, and dry lubricants to become an integral part of the blower's molecular structure. Chem-Tough finishing is resistant to most common chemicals and offers dramatically improved corrosion resistance over regular hard anodizing. It allows aluminum to achieve the equivalent corrosion resistance of Teflon fluoropolymer. Because the Chem-Tough surface becomes an integral part of the metal, it doesn't peel or chip and can't be scratched, flaked or nicked under ordinary conditions. Chem-Tough is approximately file-hard-the hardness of nitrated steel. By infusing polymers into the cast aluminum of the blower, Chem-Tough provides a surface with a high degree of permanent lubricity and moisture resistance. The polymer also levels surface asperities, significantly reducing surface tension. As a result, blowers converted with Chem-Tough have longer life, operate more efficiently and require less maintenance without the use of higher priced metals such as stainless steel. For food processing, medical and pharmaceutical applications, Rotron offers Food-Tough(TM), which uses the same unique proprietary process as Chem-Tough but has USDA approval and meets FDA guidelines. AMETEK is a leading manufacturer of regenerative blowers for industrial, environmental, and chemical processing applications that feature rugged, compact construction, low acoustical noise, high reliability, and long lives without scheduled maintenance requirements. AMETEK Rotron is a unit of AMETEK, Inc., a global manufacturer of electric motors and electronic instruments with annual sales over $1 billion. For more information on Chem-Tough regenerative blowers or other AMETEK brushless DC products, contact AMETEK Rotron, 627 Lake Street, Kent, OH 44240 USA. Telephone: 330-673-3452. Fax: 330-677-3306. Web site: www.rotronindustrial.com
More from Software