Reflowable Thermal Switch features integrated shunt.
Press Release Summary: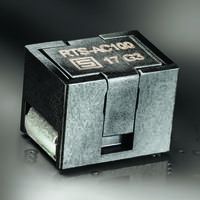 SCHURTER's Reflowable Thermal Switch is designed for protecting MOSFETs, ICs, IGBTs, TRIACs, SCRs against overheating. Unit is rated to currents up to 100 A and voltages up to 60 VDC. RTS can be mounted by using reflow soldering techniques and these units are set to trip at 210°C. Reflowable Thermal Switch comes in 6.6 x 8.8 mm in size package.
---
Original Press Release:
Reflowable Thermal Switch - RTS - Protects against Thermal Runaway
SCHURTER introduces its new RTS, a particularly compact device for thermal protection. Due to their inherent self-reinforcing heat-producing behavior, power semiconductors such as MOSFETs, ICs, IGBTs, TRIACs, SCRs, etc. can overheat and lead to thermal runaway. The RTS is designed to protect against such overheating, reliably interrupting the circuit precisely at a pre-defined temperature.
RTS stands for "Reflowable Thermal Switch". The RTS can be mounted using conventional reflow soldering techniques with temperature profiles up to 260 °C. After the solder process, the RTS is mechanically activated by depressing the top into place, arming the RTS to trip at 210 °C. It can be performed manually or automatically in the case of several devices being activated at once. In contrast to devices using electrical activation, with an additional contact, the status of the RTS is clearly and immediately visible to the installer. The need for an additional contact is also eliminated.
The RTS sustains operating currents up to 100 A at rated voltages of up to 60 VDC in a remarkable compact package measuring 6.6 x 8.8 mm in size. Customer-specific versions are available. Added features include integrated shunt or overcurrent protection, resulting in less space consumed on the printed circuit board.
The RTS meets the high reliability requirements of AEC-Q200 and MIL-STD. Pricing for the RTS starts at $ 1.55 each in 100 piece quantities. Packaging is 100 pieces or 750 pieces in blister tape and 33 cm reel. Application note Thermal Runaway at https://www.schurter.com/content/download/2357131/40537784/version/17/file/ApplicationNote_Thermal Runaway_EN.pdf. For sales and product information, contact Cora Umlauf at (800) 848-2600 or by email at info@schurterinc.com.
About SCHURTER Inc.
SCHURTER is a progressive innovator and manufacturer of Circuit Protection, Connectors, Switches, and EMC Products to the electronic and electrical industries worldwide. SCHURTER's three divisions: Components, Input Systems and Electronic Manufacturing services are formed to provide customer specific products and services, which focus on clean and safe supply of power and making equipment easier to use. These core competencies bring a high degree of innovation to SCHURTER's main markets IT / Telecom, Medical, Space and Energy.
SCHURTER meets its customers' highest demands through certified quality, environmental and safety management systems including ISO 9001, ISO 14001, OHSAS 18001 and highly developed processes (Six Sigma method). Excellent services are upheld through the consistent application of an all-encompassing quality management system.
SCHURTER Inc., Santa Rosa, California is the exclusive North America sales and distribution office for the SCHURTER Group.
Contact This Company Download Spec Sheet
More from Electrical Equipment & Systems