Reference Carrierboard supports Type 6 Computer-on-Modules.
Press Release Summary: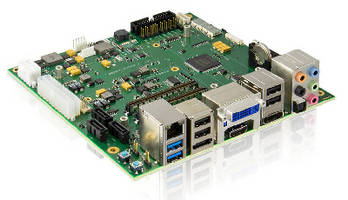 Designed for development of SFF applications, Kontron COM Express® Reference Carrier Type 6 in Mini-ITX form factor can host all COM Express® pin-out type 6 modules in 95 x 95 mm and 125 x 95 mm form factors. Board includes DisplayPort, HDMI, DVI, and LVDS graphic interfaces, as well as Realtek HD audio codec, 3 SATA connectors, eSATA port, and 2 USB 3.0 ports. For expansion, carrier provides 1 PCIe x4 slot, 1 Express Card connector with USB, and 1 Mini PCIe slot with USB and SIM card support.
---
Original Press Release:

COM Express® Reference Carrierboard for Type 6 Computer-on-Modules Ideal for the Development of Small and Portable Applications



Mini-ITX form factor with a wide range of interfaces and connectivity to various digital displays in parallel

Eching, Germany, - Today Kontron has launched a new reference carrierboard for COM Express® basic and compact Computer-and-Modules with pin-out type 6. The Kontron COM Express® Reference Carrier Type 6 is specifically designed for the development of innovative SFF applications and supports all future-oriented interfaces required in small and portable applications. OEMs can leverage the new reference carrierboard in the Mini-ITX form factor to accelerate application development or use it off-the-shelf paired with the broad ecosystem of Mini-ITX accessories to improve time-to-market and development cost of their innovative applications.

The Kontron COM Express® Reference Carrier Type 6 carries out all the interfaces that state-of-the art COM Express® Computer-on-Modules with pin-out type 6, such as the Kontron COMe-bSC6, the COMe-cOH6 and the Kontron COMe-bIP# with the 3rd generation of Intel® Core(TM) processors, make available. The Kontron COM Express® Reference Carrier Type 6 serves as an ideal reference design for developing innovative applications with enhanced user experience, increased graphics capabilities, faster drives and peripherals. The broad range of graphic interfaces including LVDS, DDI (DisplayPort/HDMI/DVI) and VGA (via DVI-I) enables developers to connect any embedded display type without the need for additional components, cutting both time-to-market and total cost of ownership. High speed serial interfaces including USB 3.0 allow connection of the most modern peripheral components to facilitate building small and portable systems with commercially available standard components. Furthermore, with SIM card support and Smart Battery Support, OEMs can use the new reference carrierboard to simply develop a broad range of always-connected mobile devices found in markets such as digital signage, POS/POI, medical, transportation, and industrial automation.

The Kontron COM Express® Reference Carrier Type 6 in detail

The new Kontron COM Express® Reference Carrier Type 6 in the compact Mini-ITX form factor can host all COM Express® pin-out type 6 modules in the compact (95x95 mm) or basic (125x95 mm) form factor. Along with the common embedded LVDS interface for internal displays, the new reference carrierboard supports three DDI interfaces. With one interface each for DisplayPort, HDMI, and DVI-I that also transmits analogue VGA signals. For the development of multimedia applications it also integrates a Realtek HD audio codec with digital and optical SPDIF in/out and 5.1 audio jacks. Internal hard drives and SSDs can be hooked up via three SATA connectors and for external drives, there is an eSATA port. Application-specific expansion can be achieved via one PCI Express x4 slot, one Express Card connector with USB and one Mini PCI Express slot with USB and SIM card support. This makes developing connected applications with GSM, UMTS or future LTE support a simple task. In addition to two USB 2.0 ports there are also two USB 3.0 ports that support super fast peripherals such as 3rd party HD cameras or storage media. LAN connection is supported through a RJ45 plug for 10/100/1000 Mbit networks. Further interfaces include two COM interfaces, GPIO and fan control. The power supply is available either via the standard ATX power connector or Smart Battery connectors for the development of battery-powered mobile applications.

The Kontron COM Express® Reference Carrier Type 6 is available now.

For more information on the Kontron COM Express® Reference Carrier Type 6, please visit:
http://www.kontron.com/products/computeronmodules/com+express/com+express+basic/starterkits+and+evaluation+boards/come+ref+carrier+t6.html

For more information on Kontron COM Express® Computer-on-Modules please visit:
http://www.kontron.com/products/computeronmodules/com+express/

About Kontron

Kontron is a global leader in embedded computing technology. With more than 40% of its employees in research and development, Kontron creates many of the standards that drive the world's embedded computing platforms. Kontron's product longevity, local engineering and support, and value-added services, helps create a sustainable and viable embedded solution for OEMs and system integrators. Kontron works closely with its customers on their embedded application-ready platforms and custom solutions, enabling them to focus on their core competencies. The result is an accelerated time-to-market, reduced total-cost-of-ownership and an improved overall application with leading-edge, highly-reliable embedded technology.

Kontron is listed on the German TecDAX stock exchange under the symbol "KBC". For more information, please visit: http://www.kontron.com/