Reduce Your Jaw Change-Over Time to 5 Seconds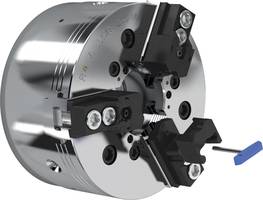 SCHUNK PRONTO quick change jaw system could shave minutes off of your current set-up times, drastically improving your productivity.
In addition to the time-saving benefits, there is also considerable versatility and extended clamping range to the PRONTO quick change system. The complete system is suitable for O.D. clamping of machined and finished parts and consists of support jaws and clamping inserts that have a clamping range of up to 16mm without having to reset the supporting jaw - this is an impressive 300% increase on the standard clamping range!
The PRONTO quick change jaw system is incredibly easy to use - the lock is released with an Allen key, the jaw is then removed and replaced by another, thereby eliminating incorrect positioning and ensuring excellent repeatability. When in the locked position, the six sided form fit clamping is at maximum stability, providing high force and torque transmission.
The PRONTO system can be used in a wide variety of applications to adapt to any specific need. The features and benefits include:
Three supporting jaw variations available for small, medium or large clamping ranges
Four hard claw inserts for various diameter and clamping ranges
Soft interchangeable inserts for finished parts processing
Once turned, the inserts can be used repeatedly on a system
Clamping depth can be adjusted by using a work piece stop
About SCHUNK:
SCHUNK is a German family-owned company and global player in one. More than 2,500 employees in 8 plants and 30 directly owned subsidiaries and distribution partners in more than 50 countries throughout the world ensure an intensive market presence. SCHUNK designs and manufactures an unmatched selection of clamping technology and gripping systems. www.schunk.com
Media Contact
Clare Welham
Marketing Coordinator
919-767-1997
Technical Contact
Steve Hartung
Workholding Group Manager
919-767-1984
Related