Receiver/Transmitter may be battery powered.
Press Release Summary: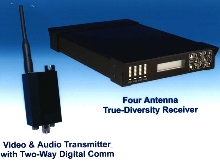 Receiver/Transmitter is designed for camera security systems. Multiple antenna inputs for receiver offer true diversity allowing for continued image quality. Broadcast video and audio are available in ISM license free bands. Units are available in UHF and 900 MHz areas as well.
---
Original Press Release:
RF Neulink Introduces Its New Multiple True Diversity Receiver and Remote Transmitter

RF Neulink, a division of RF Industries, is pleased to announce the introduction of its new multiple antenna true diversity receiver and remote transmitter. Designed for camera security systems, this unit has been successfully tested in traffic monitoring, Main gate security systems, and covert surveillance systems. The unit is an excellent fit for military and swat team operations. Small compact remote transmitter may be battery powered and the receiver may also be battery powered.

Broadcast video and audio are available in the ISM license free bands. Multiple antenna inputs for the receiver offer true diversity and this allows for continued superior image quality. Units are also available in the UHF and 900Mhz areas as well. Call or contact RF Neulink at 800-233-1728 or www.rfneulink.com for more information.

7610 Miramar Road, San Diego, CA 92126-4202 (858) 549-6340; (800) 233-1728 Fax: (858) 549-6345; E-mail: rfi@rfindustries.com - Web: www.rfindustries.com
More from Electronic Components & Devices