Rear Air Suspension has 10,000 lb rated capacity.
Press Release Summary: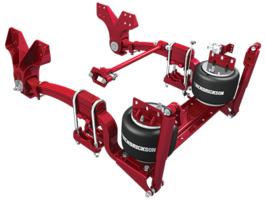 Designed and manufactured for cut away bus and specialty vehicle market, 10,000 lb capacity COMFORT AIR is configured to improve driver feel and predictable handling when performing maneuvers. Air springs and shock absorbers work together to adjust to changing road conditions and promote passenger comfort. Also included, kneeling function enables bus to lower 3.5 in. to aid passenger entry and egress. COMFORT AIR is standard rear suspension for ARBOC's The Spirit of Mobility low-floor bus.
---
Original Press Release:
Comfort Air Launched On Arboc
Hendrickson launches COMFORT AIR on ARBOC's Spirit of Mobility at BusCon

Indianapolis, IN. – Hendrickson Commercial Vehicle Systems announces the launch of the 10,000 pound capacity COMFORT AIR rear air suspension at BusCon.   COMFORT AIR will serve as the standard rear suspension for ARBOC's low-floor bus model, The Spirit of Mobility, built on a conventional cutaway chassis.

As an extension of Hendrickson's COMFORT AIR product family, the 10,000 pound capacity system is designed and manufactured specifically for the cut away bus and specialty vehicle market.  COMFORT AIR features an optimized suspension configuration for improved driver feel and predictable handling when performing maneuvers.  Air springs and shock absorbers work together to adjust to changing road conditions, providing passengers with a comfortable ride.

Hendrickson's latest COMFORT AIR rear suspension system also includes a kneeling function.  This feature enables the bus to lower 3.5 inches, easing passenger entry and exit.  Additionally, this suspension system is engineered to reduce roll forward during the kneeling operation, reducing the possibility of damage during ramp deployment.

"We identified the need for a purpose built air suspension that addresses the unique and changing needs of the bus market.  Delivering improved ride quality, driver handling and kneeling performance are a direct result of listening closely to customer needs and requirements while applying the ride and handling expertise that Hendrickson is known for in the industry.  This launch represents the first product in a line of Comfort Air suspensions well suited for paratransit, shuttle and other specialty bus applications," said Gerry Remus, global bus business unit director for Hendrickson Truck Commercial Vehicle Systems.

The COMFORT AIR product family exemplifies advanced rear air suspension technology to adjust to changing road conditions, providing enhanced ride quality for bus drivers and passengers alike.  Damaging vibration to the bus chassis and body are reduced, leading to extended life and lowered maintenance.  All Hendrickson products undergo rigorous test and validation procedures based on real world road conditions to ensure durability and long life.

For additional information on COMFORT AIR, contact Hendrickson Truck Commercial Vehicle Systems at 630-910-2800 or www.rideonair.com.

Hendrickson, a Boler company, is a leading global manufacturer and supplier of heavy-duty mechanical, elastomeric and air suspensions; integrated and non-integrated axle systems; parabolic and multi-leaf springs; and bumper and trim components to the global commercial transportation industry. Hendrickson, based in Itasca, Ill., USA, continues to meet the needs of the transportation industry after more than 100 years. Visit the Hendrickson website at www.hendrickson-bus.com
More from Food Processing & Preparation