Real-Time Oscilloscopes support automated test solution.
Press Release Summary: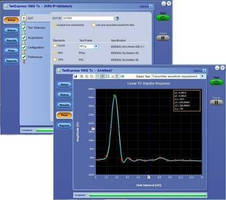 Tektronix performance oscilloscopes from 33–70 GHz are compatible with TekExpress test automation solution, which leverages Asynchronous Time Interleaved (ATI) technology and supports 100G Ethernet (IEEE 802.3bj and IEEE 802.3bm Annex 83) electrical validation and characterization. Supported technologies, including 100GBASE-CR4/KR4 and CAUI4, provide complete set of solutions covering optical (100GBASE-SR4) and electrical validation.
---
Original Press Release:

Tektronix Delivers Automated 100G Electrical Test Solution for up to 70GHz Real-Time Oscilloscopes



First Fully Automated Solution for IEEE 802.3bm and IEEE 802.3bj Standards



BEAVERTON, Ore. – Tektronix, a leading worldwide provider of measurement solutions, today introduced new automated compliance test solutions for 4-lane 100G electrical interfaces defined in the IEEE 802.3bm and 802.3bj specifications. The new capabilities along with the full set of Tektronix solutions for 100G and 400G characterization and validation will be displayed March 22-25 at OFC 2016, Booth 2647.



Available for Tektronix performance oscilloscopes from 33 GHz up to 70 GHz, the new TekExpress application supports 100G Ethernet (IEEE 802.3bj and IEEE 802.3bm Annex 83) electrical validation and characterization needs. Specific supported technologies are 100GBASE-CR4/KR4 and CAUI4 which are the principal electrical specifications for 100G Ethernet. With these additions, Tektronix now offers the industry's most complete set of IEEE 802.3bm and 802.3bj solutions covering both optical (100GBASE-SR4) and electrical validation.



The IEEE 802.3 specification is lengthy and continually evolving, making it challenging for test engineers to come up to speed on such a massive specification. Tektronix works in collaboration with standards bodies and leverages its expertise to help translate industry standard test requirements into easy-to-use turnkey test solutions that offer clear and concise characterization reports. Reducing test and validation complexity is key to bringing interchangeable 100G optical and electrical modules to market in a timely manner.



"Conformance testing for IEEE data communication standards is basically ad hoc since there isn't a formal certification process," said Brian Reich, general manager, Performance Oscilloscopes, Tektronix. "Tektronix is filling this void with a common set of tools that can be used to provide an accurate and consistent set of metrics against which designers can compare designs and components' electrical or optical performance."



The Tektronix CAUI4/KR4/CR4 test automation solution leverages the unique Asynchronous Time Interleaved (ATI) technology found in DPO70000SX 70 and 50 GHz oscilloscopes to deliver unprecedented low noise and measurement accuracy. Traditional instruments using synchronous time interleaved architectures have too much noise or insufficient bandwidth to allow effective noise and jitter decomposition of these complex electrical signals. The ATI acquired signal, along with the new 100G CAUI4/KR4/CR4 TekExpress solution, provides a powerful combination of capabilities never before offered together in a real-time oscilloscope.



Pricing & Availability

The Tektronix 100G-CAUI4/KR4/CR4 solution is available to order now. Pricing starts at $7,500 US MSRP. For more information please visit: http://www.tek.com/100g-optical-and-electrical-tx-rx.



Wondering what else Tektronix is up to? Check out the Tektronix Bandwidth Banter blog and stay up to date on the latest news from Tektronix on Twitter and Facebook.



About Tektronix

Headquartered in Beaverton, Oregon, Tektronix delivers innovative, precise and easy-to-operate test, measurement and monitoring solutions that solve problems, unlock insights and drive discovery. Tektronix has been at the forefront of the digital age for over 70 years. Join us on the journey of innovation at TEK.COM.



Tektronix is a registered trademark of Tektronix, Inc. All other trade names referenced are the service marks, trademarks or registered trademarks of their respective companies.



CONTACT:

Amy Higgins

PR Manager

Tektronix

ahiggins@tektronix.com

503.627.6497



Web Site: http://www.tektronix.com

More from Laboratory and Research Supplies and Equipment