Ready to Ship, Fully Assembled Skid Mounted Membrane Filtration Systems!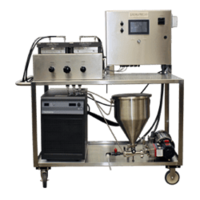 Our skid mounted membrane filtration systems are specifically designed to bring a new level of ease to bench scale testing of membrane filters and small batch processing. The goal for developing this product was to help our customer do what they do best - research and develop - and minimize time plumbing, wiring and waiting! We are also aiming to ship each skid mounted system within 2 weeks of purchase date.
Already in use in many academic and industry R&D labs for applications such as membrane development, quality assurance, materials research and batch production of micro biologicals, chemicals, pharmaceuticals and others, these skid mounted systems increase productivity and establish consistency in experimental design. Organizations with several different interests can quickly adjust operating parameters to meet an assortment of testing goals.
Benefits include:
Plug in ready
Multiple configuration options
Certified at factory to be leak and trouble free
Pre and post-sales technical support ensures users receive optimized equipment and are provided with Sterlitech's operational training webinar within one week of delivery. Each webinar is interactive and is tailored to the skid design and to the needs and skill level of its users.
To obtain more information about Sterlitech's Skids view the Sepa skid animation or contact a Membrane and Process Development expert at Sterlitech at 1-877-544-4420 or sales@sterlitech.com.
Sterlitech Corp.
22027 70th Ave. S.
Kent WA 98032-1911
Phone: 253-437-0844
Url: http://www.sterlitech.com
Contact:
Sterlitech Corporation
Sales Department
email: sales@sterlitech.com
More from Software