Rattunde Utilizes Precision Motion Control for Tube and Bar Production System; up to 11,000 Parts Per Hour Reported with Zero Rejects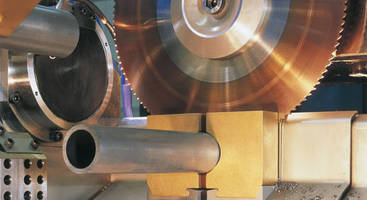 Through the use of Siemens SINUMERIK CNC technology, plus PLC and HMI, on a combination servo-controlled cold saw cut-to-length and brush deburring system, Rattunde customer achieves triple the output on small engine exhaust components

Rattunde Corporation of Grand Rapids, Michigan is the five-year-old subsidiary of Germany's Rattunde & Co. GmbH, a machine tool builder of tube, pipe and bar processing equipment. The company is already making its mark in the American manufacturing industry, as demonstrated by a recent success it had at Cosmos Manufacturing of South Chicago Heights, Illinois, a major supplier of small engine exhaust tubes to the leading outdoor power equipment manufacturers in the country.

The Rattunde system, incorporating a servo-controlled cutoff saw and brush deburring mechanism, is consistently producing up to 11,000 parts per hour at Cosmos, according to Mike Jemilo, the end user's general manager. "This number represents triple the output production for Cosmos." He continues, "Better still, it's been in operation more than a year and we have not reported a single reject, with only routine maintenance and zero downtime due to machine problems. This is truly a win-win scenario for the machine tool builder and us alike."

At the heart of the Rattunde system, according to Richard Stadler, company president, is the computer numerical control (CNC) system used by this builder. It consists of a Sinumerik 840D CNC, Simatic S7 PLC with various analog and Profibus modules, plus numerous Simotics servomotors, motor protection devices, circuit breakers and other components supplied by Siemens.

At Cosmos, this Rattunde system is used to process mill-length tubes to customer-specified dimensions, using a fully NC-controlled cold saw. Cut-to-length parts are then automatically measured for dimensional accuracy and brush deburred. Production of these parts runs up to 11,000 units per hour, according to Cosmos' Mike Jemilo. Because of the overall improvements in automation, speed and parts handling, plus the precision of the Sinumerik CNC system, Cosmos is further experiencing significant reductions in parts handling, secondary operations and final assembly.

The primary products being produced on this equipment at Cosmos include mountings, connectors and sections for muffler tubes in dozens of lengths, typically in 3/8-inch, 7/16-inch, 12 millimeter and 1/2-inch sizes. Products are routinely run in mild steel, aluminized steel and stainless steel on the same Rattunde system, with offline pre-programming done by the Cosmos engineering team. The final products are sold by Cosmos to leading manufacturers of chain saws, leaf blowers, lawn mowers and other small engine-powered equipment.

Jemilo concluded by citing the Rattunde service advantages. "From the initial contacts with their application engineering, through the build process, commissioning and on-site training, we've been extremely impressed with their work - very professional and responsive. Our previous system had nowhere near the production of the Rattunde solution and we are already working with this supplier on our next system."

From the machine tool builder's perspective, the same relationship is echoed about Siemens. Alec Banish, vice-president at Rattunde, commented, "We were asking Siemens to do some fairly complex operations in motion control, including 13 total axes with an articulating gearbox, plus the conveyor and part articulations, spindles and servomotors." He further noted the scalloped motion of the ID/OD brushing with disc transfers all presented unique motion challenges for the control hardware and software alike. "The Siemens servo technology automated our entire process in a totally controlled, high-precision manner, allowing customers such as Cosmos to process a wide variety of materials, dimensions, shapes and lengths with easy-to-manage presets." Banish concluded by saying, "The Siemens support is greatly enhanced by the remote monitoring capability of the Sinumerik CNC. About 70 percent of our issues are resolved remotely, working between us and Siemens or directly with the customer's plant personnel."

Prior to the implementation of the Rattunde system, all the piece part work done at Cosmos required two or three saws, with the attendant fixturing, parts handling, logistics and labor costs. These bottlenecks in production were eliminated by the fully automated and single operation processing of the tubes provided by the Rattunde system. Four tubes are processed per cycle, with servo control of the entire bundle, as it moves through the saw, brush and loading zones on this fully integrated machine line.

From a factory utilization perspective, the prior system at Cosmos ran in three shifts for six days, each week. Today, with the Rattunde system on the floor, occupying a far smaller footprint, one shift per day working just five days produces the same output with far superior quality and virtually no rework, according to company sources.

Rattunde President Richard Stadler further comments on the power of the Siemens CNC and related motion control products. "We're using all ten channels and pushing the axis capability to some extreme limits, but have seen absolutely no problems in signal degradation or processing speeds." Stadler also observed the Sinumerik CNC program storage capabilities were quite impressive. "All the operator needs to do is provide a size range indication onscreen and all the relevant programs appear for easy selection. Repeatability is obviously critical for our customer, who often process dozens of shapes and sizes per shift."

He recalled meeting the Cosmos team at FABTECH in 2009. "They approached us with their scenario and it was right in our wheelhouse. We did some test cuts and time/motion studies for them and the results were quite impressive, both to them and to us," Stadler muses.

Rattunde operates facilities in Grand Rapids, Michigan as well as a service center in Burlington, Ontario to better serve their North American customer base.

Rattunde markets its tube and bar production systems to makers of precision parts. Currently selling 60 percent automotive, the company's systems produce airbag canisters, cam shaft cylinders, steering components, rack mounts, driveshafts, frame components, seating parts, headrests, shock absorber parts, door impact devices, luggage racks and a variety of axles. In addition to the cut-off and brush deburring system detailed here, the company also supplies production systems to perform various types of secondary machining operations, including threading, facing, chamfering and ID turning.

For further information on this story, please contact:

RATTUNDE CORPORATION

4980 Kendrick St. SE

Grand Rapids, MI 49512

Phone: 616-940-3340

Web: www.rattunde-corp.com

Email: r.stadler@rattunde-corp.com

Attention: Richard Stadler, president or Alec Banish, vice-president

Or

SIEMENS INDUSTRY, INC.

MOTION CONTROL

MACHINE TOOL BUSINESS

390 Kent Avenue

Elk Grove Village, IL 60007

Phone: 847-640-1595

Fax: 847-437-0784

Web: http://www.usa.siemens.com/cnc

Email: SiemensMTBUMarCom.sea@siemens.com

Attention: John Meyer, Manager, Marketing Communications

A video of the machine similar to the one described in this story may be viewed at http://rattunde.com/uk/products/acs-bdm/video/1.htm.


More from Electrical Equipment & Systems