Radio Test Set supports rebanded 800 MHz radios.
Press Release Summary: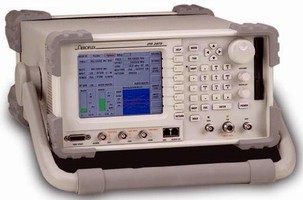 With modular design and 40 Gb internal hard drive, 2975 P25 Radio Test Set supports testing and verification of 800 MHz rebanded public mobile radio systems. Digital radio test platform lets Motorola SmartNet and SmartZone 800 MHz P25 radio systems be checked before and after rebanding to ensure compliance with FCC frequency band requirements. Support of wide pulse modulation technology allows full test and analysis, including ability to decode voice information off the air.
---
Original Press Release:

Aeroflex 2975 P25 Radio Test Set Now Supports Re-banded 800 MHz Radios



LAS VEGAS-International Wireless Communications Expo (IWCE) 2007-March 28, 2007-Today at IWCE, Aeroflex demonstrated new test capability for the 2975 P25 Radio Test Set-support of re-banded Motorola's SmartNet and SmartZone 800 MHz P25 radio systems. Accurate testing and verification of 800 MHz re-banded public mobile radio (PMR) systems is critical because of their use by first responders who rely on their radios to ensure public safety. A radio that is not working properly in the new frequency bands could mean a delayed response or even the difference between life and death.

"With this added test capability for the 2975, owners of Motorola's SmartNet and SmartZone trunked radio systems will have confidence that they can do the quick and vital verification needed for their Motorola radio systems. The 2975 allows SmartNet and SmartZone system owners a way to check their radios before and after re-banding to ensure compliance with the FCC (Federal Communications Commission) frequency band requirements," said Rob Barden, director of product marketing, Aeroflex Test Solutions.

Additionally, Aeroflex has licensed for support of Motorola's wide pulse modulation technology used in SmartNet and SmartZone radio systems. This capability allows test professionals to fully test and analyze wide pulse modulation systems, including the ability to decode voice information off the air.

About re-banding of 800 MHZ public mobile radio systems
To improve public safety communications and as part of a legal settlement, in 2005 the FCC ruled that all 800 MHz radio systems in the United States would be modified to eliminate interference with public safety communication systems from some cellular operators. The main goal of re-banding is to eliminate interference by changing public mobile radio broadcasting frequencies in the 800 MHz spectrum. This requires retuning, reprogramming and/or replacing all subscriber units and modifications to tower sites to broadcast on the new frequencies. Users of PMR systems will need to verify that their systems are now working in the new frequency band. The 2975 P25 Radio Test Set will enable PMR system owners a quick and easy way to validate their systems.

About the Aeroflex 2975 P25 Radio Test Set
The 2975 P25 Radio Test Set is a digital radio test platform that tests radio equipment to ensure proper operation to various P25 standards, including advanced parametric testing for compatible four-level frequency modulation and interoperability testing of P25 systems. As well as standard analog test features, the 2975 provides P25 trunking support for VHF/UHF/700 and 800 MHz bands, SmartNet/SmartZone support, AES and DES encryption support, control message logging, encryption key management facilities, CQPSK generate and receive testing, and advanced CQPSK analysis for Linear Simulcast Modulation systems.

Created with a modular design, the 2975 is simple to support and upgrade. Its 40 GB internal hard drive maximizes flexibility in storage and recall of setup information and test data. Software upgrades can be downloaded from Aeroflex's website allowing features to be added as new radio-specific tests are developed, reducing ownership and life-cycle costs.

Price and availability
Delivery for the 2975 is ten weeks upon receipt of order. Highly configurable, a starting configuration for the 2975 is priced at approximately U.S. $21,495. The new 800 MHz re-banding support is priced at U.S. $2,000. The wide pulse modulation feature comes standard with the 800 MHz re-banding support option (2975OPT3) and is available in eight weeks and will be accessible for download at www.P25.com. Details on all of the 2975's software options, including price and availability, can be obtained by contacting your Aeroflex sales representative at (800) 853-2352 or info-test@aeroflex.com.

About Aeroflex
Aeroflex Incorporated is a global provider of high technology solutions to the aerospace, defense, cellular and broadband communications markets. The company's diverse technologies allow it to design, develop, manufacture and market a broad range of test, measurement and microelectronic products. The company's common stock trades on the Nasdaq National Market System under the symbol ARXX and is included in the S&P SmallCap 600 index. Additional information concerning Aeroflex Incorporated can be found on the company's website: www.aeroflex.com.

More from Agricultural & Farming Products