Radar Sensors are designed for driver-assistance systems.
Press Release Summary: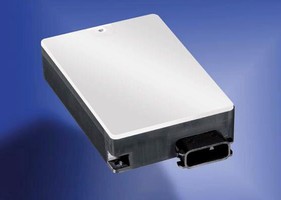 Resistant to inclement weather and harsh environmental conditions, 24 GHz ultra wide band (UWB) radar sensors provide object detection and tracking. Parking assistance can be provided by rear-mounted sensors with 1.8 m range that can detect small objects in front of large objects and measure direction of arrival. Sensors with ability to scan out up to 30 m provide warning of imminent collision so airbags can be armed and seat restraints pre-tensioned.
---
Original Press Release:

M/A-Com Introduces Next Generation of 24 GHz Ultra Wide Band Radar Sensors



Short-Range Radar Sensors Elevate Safety and Comfort Functionality in Automotive Applications

LOWELL, Mass., Oct. 17, 2006 - M/A-COM, a business unit of Tyco Electronics and a leading provider of wireless radio frequency (RF), microwave and millimeter wave components, today introduced a new generation of 24 GHz ultra wide band (UWB) radar sensors for driver-assistance systems. M/A-COM's 24 GHz short-range radar sensor is a highly-integrated "smart sensor" designed to improve safety and comfort functions in automotive applications by providing object detection and tracking to further support drivers.

M/A-COM's 24 GHz UWB radar sensors are designed to resist inclement weather and harsh environmental conditions more than other sensing technologies, such as infrared devices. M/A-COM's radar sensors are specifically intended for:

o Parking assistance: Rear-mounted sensors, with a range of 1.8-meters, can detect small objects in front of large objects and measure direction of arrival

o Pre-crash sensing: The sensors scan out up to 30 meters to provide an advanced warning of an imminent collision to arm airbag, pre-tension seat restraints or other injury mitigation strategies

o Blind spot detection: Short-range sensors detect objects in critical zones

o Obstacle detection: With up to a 30 meter operating range, the radar sensor can be used to warn of unseen objects

Additionally, M/A-COM's radar sensors can be deployed in security, military and unmanned vehicle operations, as well as mining and industrial sensing applications.

M/A-COM's advanced 24 GHz short-range radar sensors were developed using the latest UWB technology, enabling the system to measure objects that are located within centimeters of the sensor. In comparison with narrow-band sensors, short-range sensors can detect and distinguish between objects as close as 15 centimeters from each other.

Pricing and Availability

M/A-COM 24 GHz UWB short range sensors are customized for each set of applications. Please contact our domestic and international sales offices for specific pricing and delivery information.

M/A-COM, Inc., a business unit of Tyco Electronics, is an established industry leader in the design, development and manufacture of radio frequency (RF), microwave and millimeter wave semiconductors, components and technologies for the wireless telecommunications, automotive, aerospace and military industries. Holding hundreds of patents in the field, M/A-COM is internationally known as an innovator and integrator whose technologies are found in some of today's most advanced signal intelligence and defense systems, as well as in leading automotive navigation, safety, and communications solutions. M/A-COM is also a major supplier of critical communications systems and equipment for public safety, utility, federal and select commercial markets. Headquartered in Lowell, MA, M/A-COM has offices and manufacturing facilities worldwide. Information about M/A-COM can be found on the Web at www.macom.com, a complete, updated listing of all of M/A-COM's RoHs compliant parts is available on the Web at www.macom.com/rohs.

Tyco Electronics, a business segment of Tyco International Ltd., is the world's largest passive electronic components manufacturer; a world leader in cutting-edge wireless, active fiber optic and complete power systems technologies; and a provider of premise wiring components and systems. Tyco Electronics provides advanced technology products from over forty well-known and respected brands, including Agastat, Alcoswitch, AMP, AMP NETCONNECT, Buchanan, CII, CoEv, Critchley, Elcon, Elo TouchSystems, M/A-COM, Madison Cable, OEG, Potter & Brumfield, Raychem, Schrack and Simel. For more information, visit www.tycoelectronics.com

For sales information, please contact:
M/A-COM, Inc.
1011 Pawtucket Blvd.
Lowell, MA 01853
Am

Related